Sometimes it takes a view from 20,000 feet rather than in the trenches to see the big picture. Such may be the case with today's New York Times, which makes the connection between the budget crisis in Woonsocket and Rep. Jon Brien's involvement with the American Legislative Exchange Council.
ALEC, reports Times columnist and native Rhode Islander Joe Nocera, "has a very clear agenda for dealing with state budgets. It wants to shrink them. Although Brien has denied that he is applying the ALEC philosophy to his small city, it looks, in fact, as if that's exactly what he is doing. It's not pretty."
Nocera says the Woonsocket House delegation is using the fiscal crisis as an opportunity to shrink government. He even calls it the "ALEC philosophy."
Brien denies the charge, of course. It's a point he is incredibly sensitive about.
When I recently wrote that the "General Assembly ought to save Woonsocket from its elected officials" prior to its last chance of the year to approve the supplemental tax bill, he laughed it off. But when I tweeted this that night, he took great offense, immediately leaving his seat on the House floor and coming up to literally yell at me while I sat at the press booth.
@sandyphaneuf @CAndrewMorse Seems more about hurting organized labor than saving Woonsocket.

— Bob Plain (@bobplain) June 13, 2012
Similarly, a week earlier, when I tweeted this and this, Brien demanded a retraction:
#ALEC is getting into the corporate ed. deform effort. Here in #RI, this is a big issue for @RepJonDBrien50, an ALEC board member. #NN12

— Bob Plain (@bobplain) June 7, 2012

#ALEC is also getting into pension slashing efforts. @RepJonDBrien50 wants to fix Woonsocket deficit by taking from city pension fund. #NN12

— Bob Plain (@bobplain)
While many have speculated that the Woonsocket House delegation's decision not to support the supplemental tax bill had to do with Rep. Lisa Baldelli-Hunt coveting the mayor's office, it could have more to do with Brien's idealogical adherence to the ALEC game plan.
He's brand new to the once-shadowy, ultra-conservative organization's board of directors (RI Future broke this story) and had just recently come home from his first ALEC meeting as a member of leadership when the Woonsocket House delegation launched its effort to sink the supplemental tax. If Brien and the rest of the Woonsocket House delegation didn't see the crisis in Woonsocket as an opportunity to implement the ALEC agenda locally, I'm sure his colleagues on the board of directors wish that he had.
There's certainly enough circumstantial evidence to at least raise the question.
Initially, Brien suggested borrowing from the city pension fund to close the budget gap – a move that certainly would have created a pension crisis where none exists today. On one hand this may seem like robbing Peter to pay Paul, but it's not. Every Rhode Islander understands that if the problem lies with pensions, we can simply slash those pensions, though we would never treat taxpayers this way. If it hurts organized labor, and you're an anti-union ALEC conservative, all the better.
Also, the Woonsocket delegation did little to advocate for more education funding money for their struggling city, even though the school department is currently suing the state saying they aren't paying up quick enough. But instead Brien lobbied hard for Gov. Chafee's municipal aid package, which would have helped cities like Woonsocket in that it would have eroded collective bargaining rights.
The now-infamous Woonsocket trio of Brien, Baldelli-Hunt and Phillips also tried to kill a federally-mandated sewage treatment plant when they were negotiating with the governor's office about the supplemental tax. Not only would it have shrunk government, but it would have done so in a way that would have relegated a pesky environment-protecting project mandated by the EPA and the Clean Water Act to the back burner – talk about an ALEC home run!
ALEC experts from Washington DC have cautioned me against looking for fingerprints left by the far-right organization. Since garnering so much bad press recently, they said, ALEC has adapted and learned to operate without leaving a trail. To that end, it's at the very least worth exploring.
If Nocera is correct, and the Woonsocket House delegation didn't support the supplemental tax as a way to implement ALEC's dreams of a smaller government, then this picture I took of Baldelli-Hunt talking to the media as Brien looks on during the last night of session certainly captures that story: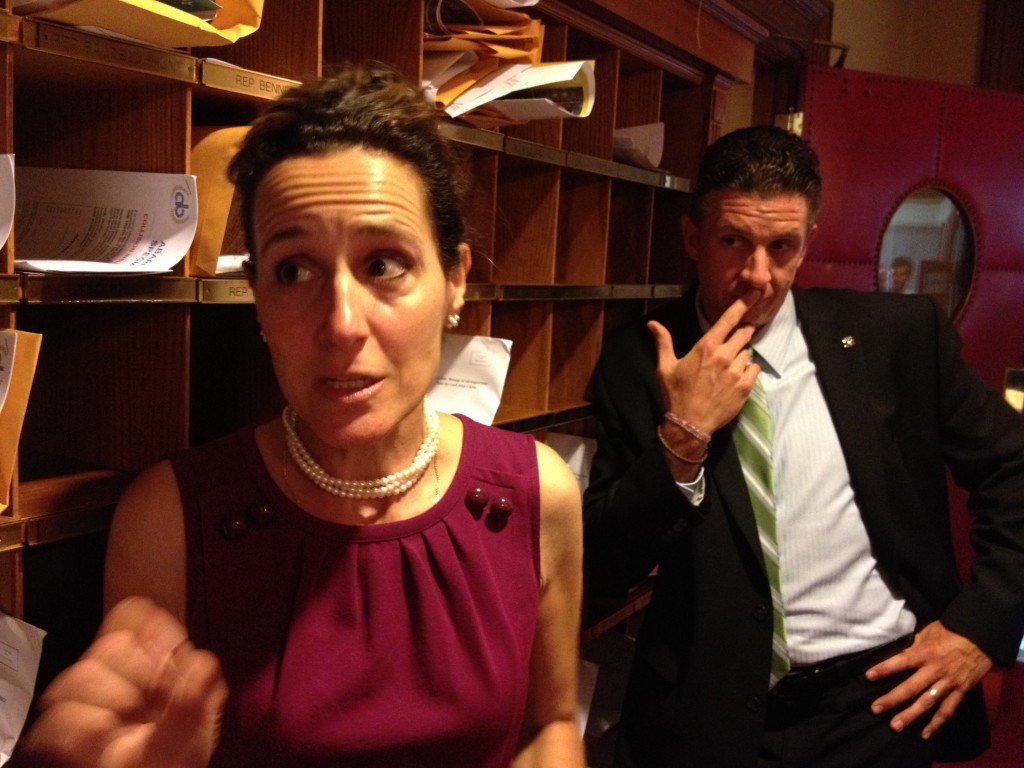 NY Times Links ALEC to Woonsocket Fiscal Crisis

,