Four years ago today the U.S. Supreme Court released its decision in the case Citizens United v. FEC.  In the four years that have followed we've seen an explosion in outside money in our elections at both the local, state, and national levels.  That money is used to fund advertisements that are overwhelmingly negative and increasingly mysterious in their origins.
There are two ways actual citizens can unite in reaction.  One is to amend the Constitution to ensure that money does not equal speech and corporations are not people.  Another, much easier way, is to pressure candidates into signing a People's Pledge.  We're on the cusp of that in the Democratic primary for Governor here in Rhode Island.
Back on October 23rd Mayor Angel Taveras signed a version of the People's Pledge that would restrict outside spending by committing candidates to give to charity 50% of the value of any outside spending that occurs on their behalf.  This morning Treasurer Gina Raimondo tweeted her support for the idea.
We're 2/3rds the way there folks.  Now two things need to happen for us to make it all the way.  First, we need to have Clay Pell join in the commitment.  Second, the candidates need to sit around the table and come to agreement.  Today we're offering this lovely conference table here at the Common Cause Rhode Island office for them to use.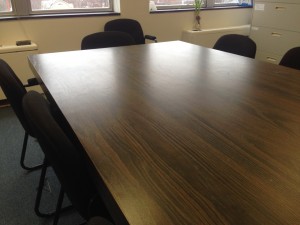 Do your part by reaching out to the candidates and encouraging them to come to the table.
On Citizens United anniversary, candidates should come to the table

,