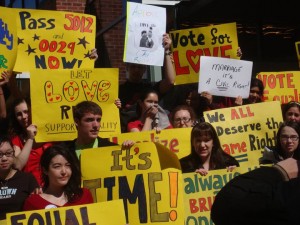 UPDATE: This training has been postponed and will be rescheduled for a later date. More information to come…
It's getting close to crunch time in the General Assembly and we're about to turn up the heat.
In order to continue being as effective as we can be, we need your help. And so I'm inviting you to take part in MERI's first ever "Organizing for Equality" training on Saturday, May 5, 2012 where we'll bring together some top notch politicos to teach you everything you need to know about how to motivate our state representatives and senators in support of the Equality Agenda.
This training is free and open to all equality supporters. No experience is necessary. All you need is an open mind and the willingness to work towards creating change. We'll show you how to do the rest.
Here's some of the things we'll discuss:
Legislative briefings on our Equality Agenda: The Equal Access to Marriage Act,
The Equal Access to Family Court Act, and The Equal Religious Protection Act
Navigating the State House: Talking to your legislator about supporting marriage equality and the entire Equality Agenda
Being an effective online organizer: Using social media and how to write a winning email
The Ground Game: How to run phone bank and door knocking efforts in your neighborhood
The 2012 Elections: What you can do to support pro-equality candidates (of any party) to the General Assembly
Registration is from 8:30 to 9:00 am and we expect to wrap up around 2:00. Light breakfast fare and a box lunch will be provided. The Organizing for Equality Training will be held at the offices of SEIU Local 1199 (294 West Exchange Street, Providence, RI).
It comes down to this: we need an army of equality supporters to step up and help us do what needs to be done to win marriage equality. If you've ever felt frustrated by slow progress, or by Smith Hill politicians who are out of touch, and you want to do something about it, then this training is for you.