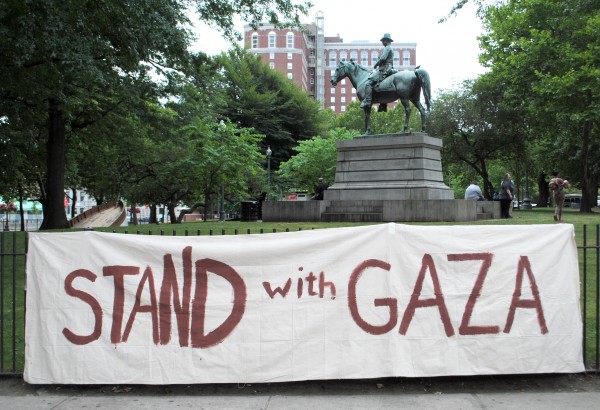 About 125 people gathered in Burnside Park on Saturday "in protest of the massacre in Gaza" and to "stand in solidarity with Palestine in the face of civilian murders and generations of systematic oppression." It is hoped that intensifying public pressure on Israel will "end the occupation." The description of the event continued:
As of late Tuesday, over 200 Palestinians have been killed and 1500 Palestinians have been wounded, the majority of whom are women and children. Without pressure, the Israeli regime has proven time and time again that it will continue such massacres as we see in Gaza now, and continue the decades of systematic ethnic cleansing, military occupation and apartheid policies.

Take to the streets to stand in solidarity with the Palestinian people and to demand an end to our Rhode Island officials' silence on the violence, a condemnation of attacks on civilians, and the cessation of military aid to Israel.
Perhaps the most emotional part of the rally was a reading of the names of those who have died in Palestine as Israel continues to pursue military solutions to the crisis.