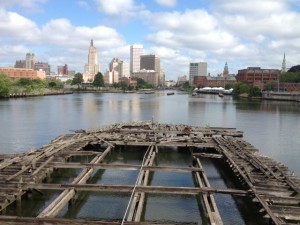 Get ready for the conservative crying that the sky is falling because Cranston decided not to have gender-specific after school events for parents and students. It's important that moms and dads model appropriate date behavior for their sons and daughters, but what we call such opportunities does not. If your child requires gender to be in the name of the dances they attend, you might consider going to one that isn't publicly financed.
Soon enough the Providence Journal will become editorially weaker and, according to company predictions, financially stronger. Another example of Wall Street winning at Rhode Island's expense.
This while our economy continues to falter.
But Rhode Island will move another step closer to developing a health benefits exchange today, reports Kristen Gourlay of RIPR. "What's the story line in Rhode Island?," she writes. "Well, we know some of the basic elements: it's tough out there for people with no health insurance, and getting tougher for people who have it, financially speaking. There are nearly twice as many uninsured Rhode Islanders today than there were in 1999." Tell me again why this isn't one of the best things Rhode Island can do to improve its economy?
RI Future hopes to see you at Mccoy Stadium tonight where the local team will be broadcasting the Triple A championship game between the Pawtucket Red Sox and Reno Aces. We're thrilled with the Pawsox's success as minor league baseball is a great progressive alternative to those who love the game of baseball: it's local and it's way less about money and ego than the major league version.