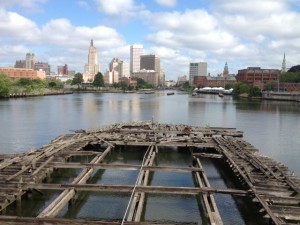 Anti-choice crusaders Rhode Island Right to Life was one of the most successful PACs on primary night, reports the ProJo. How DINO is that! On the other hand, Political Scene also gives some love to Planned Parenthood and the public sector unions for having a successful primary.
38 Studios will be the issue local candidates don't want associated with their name, says Dan McGowan. Don't forget, Don Carcieri said the only way legislators didn't know he was considering the new loan guarantee money on Curt Schilling is if they weren't paying attention to the news.
One year ago today, activists in New York City began the unrewarding but effective process of changing the political debate in America when they set up a protest camp in Zuccotti Park. Say what you will about the Occupy movement but we are talking about income inequality and corporate greed today because of them, issues that are defining the 2012 election.
Here in Rhode Island, Occupy Providence planned to spend the night at the State House to stand in solidarity with the anniversary. In New York, about 250 people marched and an unspecified number of arrests occurred.
But Occupy isn't the biggest direct action in the nation this September … that honor goes to the Chicago Teachers' Strike. Last night, the teachers' rejected a proposal causing Mayor Rahm Emanuel to go to court today to try to force them back to work. Please remember, the two sides aren't arguing over money – they've agreed on compensation – the breakdown is over how much reform Emanuel can embed into their contracts.
Here is Rhode Island, where it's popular to pretend that people are leaving the state to find a better tax rate, researchers have actually proven a much larger theory: there's less life on earth than initially thought.
Yesterday I was chided on Twitter for quoting Taegen Goddard as saying Elizabeth Warren is "pulling away" in polls from Scott Brown as they battle for the hotly contested Mass. Senate race. Today, Goddard writes that she is "surging" after going from 5 percentage points behind to 2 ahead. All political analysis aside, Liz Warren is simply more in line with Bay State voters and at the end of the day this will matter most. Just ask Bill Weld.