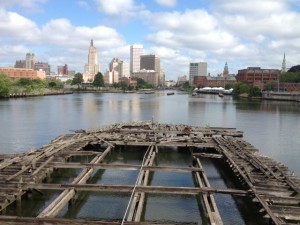 In trying to defend taking a political donation from, of all organizations, Citizens United – famous for the SCOTUS decision but also known for its hit job movie on Hillary Clinton, Brendan Doherty's campaign says Sheldon Whitehouse's DISCLOSE Act "clearly is designed to provide an advantage to one side of the political spectrum."
Wait, what? Really? It is? I'd like to know how, Brendan … Are you trafficking in the lie that unions are exempt from it? Or do you just believe that Republicans benefit more than Democrats when it comes to secret money and shadow messengers in the political process? And if it's the latter – which is true, by the way, Republicans do benefit more than Democrats from secret money and shadow messengers in politics – why would that affect your support of it? I suppose because Brendan Doherty is already siding with Republicans over Rhode Islanders.
Meet Sam Lovett and Charlie Tsonos … two Democrats vying for one East Providence seat in the state House of Representatives.
Gina Raimondo defends herself and her pension-gutting efforts against Bob Walsh's boasting that the law is on the side of the retirees whose benefits she slashed … unlike Walsh, Raimondo didn't offer a prediction, but she did indicate what might be the state's defense: the pension fund was 48 percent funded and the economy here was bad. Okay, but a judge might not care that you didn't want to raise taxes on Rhode Island's richest residents…
This is not how you want your the fancy marriage proposal you planned for your vacation on Block Island to go down.
We're super happy that Gov Chafee will meet with the Narragansett Indian Tribe, but super bummed that a simple meeting with the gov is the benchmark for victory for native Rhode Islanders. It's really sad and unfair that, if there is a full-fledged casino in Rhode Island, it won't be theirs…
And speaking of latent racism … a Romney adviser says President Obama "fully appreciate" America's "Anglo-Saxon heritage."
And speaking of Romney … he seems to be pulling a page out of Anthony Gemma's social networking playbook.