It's little wonder a Providence Journal editorial would shill for a fossil fuel company while ignoring the people of Burrillville. The once-trusted op/ed board has a long history of engaging in climate science denialism and valuing the will of corporations over the will of the people. But while the ProJo is entitled to its own opinions, it isn't entitled to its own facts and today's editorial deriding the Burrillville power plant bill being voted on today contains several errors, omissions, half truths and flat out lies.
I've annotated the editorial here. (Editor's note: The Providence Journal changed the url on this editorial after it was annotated. Here is a new url. We will update this post again if the ProJo again changes the url. )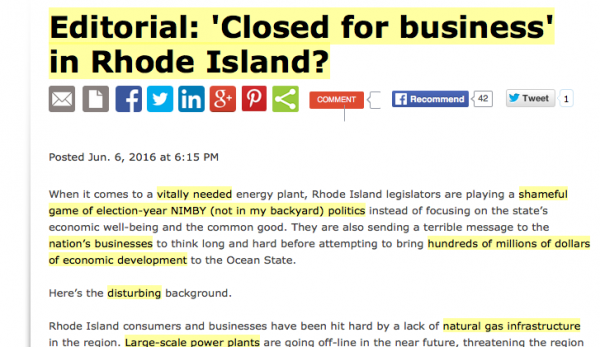 Click on the yellow highlighted phrases to find out what they really mean, or what the author should have written.
ProJo's Burrillville bill editorial, annotated

,