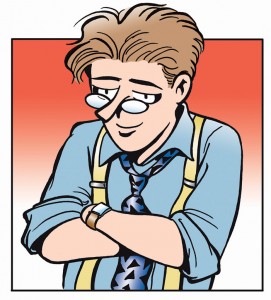 The Providence Journal not only won't publish a controversial Doonesbury cartoon that is running this week, its editors won't even talk about it. When I called for a comment on why Garry Trudeau's latest cartoons, which deal with Texas' new abortion law, wasn't in the paper yesterday two different editors hung up on me.
First some background.
Garry Trudeau, the creator of Doonesbury, decided to take on the Texas abortion law that requires women wanting an abortion to undergo, in Trudeau's words to the Washington Post, "a vaginal probe with a hard, plastic 10-inch wand." As happened in 1985, the last time Trudeau took on the subject of abortion, many newspapers across the country decided not to run the cartoon.
Evidently, the Providence Journal is one of those papers. Instead of running the new, controversial stuff from Trudeau, the Projo ran repeats.
The strip (which runs all week and  you can see here) was not in the Projo this morning, so I decided to call for a comment. I explained to the features editor who I was and why I was calling and he began telling me why they weren't running the controversial cartoon this week. Then it occurred to him that he was talking to a reporter and he literally hung up on me. I called back but it went straight to his voice mail.
So I called Deputy Executive Editor Karen Bordeleau. I had sent her an email earlier, and since we have known each other for years, she knew right away why I was calling.
"I forwarded your email to the correct person," she said. "If they want to respond, they will get back to you."
I began to explain to her what happened when I called someone else for a comment. She said the first person I spoke with didn't understand he was talking to a reporter. Okay, fair enough, so I asked her another question.
"I think I am going to hang up now," she said.
And then she did.
So now we don't know why the Providence Journal didn't run the cartoon. Did the publisher in Dallas instruct them not to? Did they make an independent decision here in Providence that their Rhode Island readers shouldn't know what Trudeau thinks about Texas' new law? Did they just think the old stuff was funnier?
Who knows. Maybe they will tell us on the editorial page later this week…