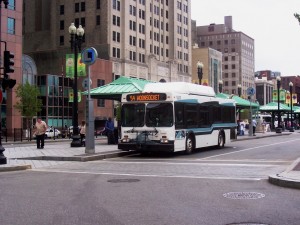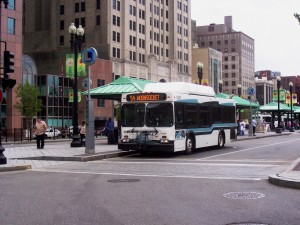 Over the last 31 years, the Rhode Island Public Transit Authority (RIPTA) has come to the public 28 times to tell us of the need to either cut service or raise fares, sometimes both. Last summer RIPTA proposed a 10% service reduction in the face of a 4.6 million dollar deficit. While RIPTA has been able to forestall such drastic cuts by finding internal efficiencies, negotiating with the Amalgamated Transit Union, and carrying forward a deficit of 1.7 million dollars into next year, nothing has yet been done to fix the source of RIPTA's financing problems.
In fact, the projected deficit for 2013 is 8 million dollars, a significant deterioration in the authority's finances.
The problem is that RIPTA derives the majority of its operating budget from proceeds of the gas tax, and the yield per penny of the gas tax continues to be in perennial decline as fuel prices increase and people drive less or buy more fuel-efficient vehicles. Of course, the sky rocketing fuel prices also put upward pressure on the operating budget, so RIPTA gets squeezed on both ends just as demand for public transit is highest.
Unsurprisingly, public transit advocates have long been trying to push legislative reform to either supplement the gas tax or switch to a different financing mechanism so that RIPTA can preserve and even expand service to meet growing demand. These efforts have not been rewarded, but there are reasons to believe 2012 will be the year that public transportation finally gets the support it needs. What makes this year different?
Three things:
1. With leadership from new board chairperson Warwick Mayor Scott Avedisian, RIPTA management and labor have put aside their differences and are putting forth a united effort to secure more funding.  The Board of Directors unanimously endorsed the Public Transit Investment Act at their last meeting, and Avedisian, RIPTA CEO Charles Odimgbe, and ATU local 618 President Paul "Fuzzy" Harrington have all been on message at the Statehouse. These circumstances stand in stark contrast to last year when RIPTA was noticeably absent on Smith Hill until the very end of the legislative session, and even then seemed unsure of what it was asking for.
2. For the first time, Rhode Island's public transit riders have organized to advocate on their own behalf. RIPTA Riders, a grassroots group of more than 600 members that largely coalesced last summer during the service cut public hearing process, has brought an astounding amount of pressure to bear on state policy makers. The Save RIPTA petition that the group started now has more than 5000 names on it, including 28 members of the House. You can see and hear more about the RIPTA Riders story here.
3. Urgency. Staring at a minimum of a 9.7 million dollar deficit, the problem can no longer be avoided. If public transit does not get additional funding this session, there will be service cuts of at least 20% in the fall. Such cuts would be a serious blow to the fragile economy of the state, particularly with gas prices as high as they are. More than ever, Rhode Islanders need affordable and convenient access to transportation.
With RIPTA Riders, the traditional coalition of transit advocates, and RIPTA itself all pulling in the same direction at the right time, transit financing reform is finally getting serious attention. You can get on this bus, too. Please take a second to click on the petition link above and put your name on it, and once you've done that please also send your State Rep a letter asking them to support the Public Transit Investment Act.