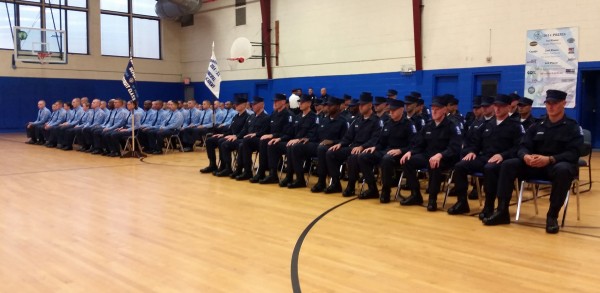 It can't be easy to be a new police officer in the racially and politically charged post-Ferguson era, but yesterday 53 graduates of the Providence Police Training Academy begin their careers.
These young men and women will determine the future of the Providence Police Department for the next 20 or 30 years, so it is very important they get the training right. We need a police department that respects and responds to the community. Last Tuesday night, at the South Providence Boys and Girls Club, the graduates had the opportunity to meet members of the community they will be serving for the first time.
"The community needs law enforcement and law enforcement needs community," said Providence Police Colonel Hugh Clements, to the 60 or so people who attended the event. "The culture of law enforcement has to change."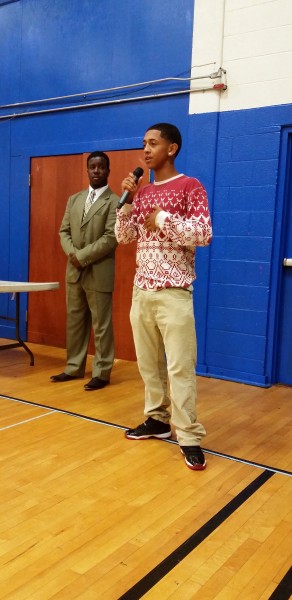 Kobi Dennis, organizer and "community guy" introduced the new police officers. "You are going to be on the street soon," Dennis told the new recruits, then gesturing to the crowd behind him, added, "and these are the people you are going to be seeing."
Dennis wanted to keep the interaction between police and community positive and avoid turning the event into a series of complaints about the police. After all, these are new recruits, with unblemished records. In many ways this is more than an introduction to the community, this is a fresh start for the Providence Police Department.
But this was a chance for many citizens to explain to the new recruits their perception of the police, which isn't always positive. For instance, a Latino teenager talked about being harassed by the police simply because of the way he was dressed. Harassment, disrespect and being the object of suspicion simply for being African American or Latino was a recurring theme from the public.
"My daughter is 18," said an older African American man, "When she's walking, she doesn't want to be out with her brothers because they always get harassed [by the police]. Her brothers are supposed to protect her, but she doesn't want to be out with them."
A mother stood and talked about watching the police interact with teenagers hanging out in the park across the street from her home. The teenagers in the park are often stopped by the police and instructed to sit on the ground as they are questioned and their backpacks searched.
"What good are our rights if you are violating them?" asked the mother. "Our kids feel the way they do [about the police] because they feel disrespected. They don't trust you. I'm a black woman. I've been pulled over six times in my life for no reason."
Colonel Clements understood the community's reaction, and explained that though police officers often have information that leads them to make searches that may seem unwarranted, that doesn't mean the officers need to be disrespectful while performing their duties. The officers, said Clements, "need to be able to articulate why they are doing what they are doing."
"I would expect, at least, that you might say, 'Have a nice day," added Dennis, to some laughter.
Young people of color are disproportionately more likely to be victims of gun violence in Providence. A woman spoke movingly of losing a teen she was mentoring to a bullet. She told the new officers, "Our kids get shot, yours don't."
This is the barrier that separates community and police into us and them. One optimistic young recruit said that he sees his job, in part, as helping to "break down the wall between police and community." Another new officer added, "We are taught to use our presence and our voice to de-escalate situations."
A female social worker from the community had some insight on how to get break down the walls that separate police from community. "Be role models and mentors," she said, "Attend neighborhood events and introduce yourself. Examine the reasons you want to be a cop. If you don't want to contribute to the wellbeing of our neighborhoods, please step down."
In addition to questions and dialog around the issue of racial profiling and community engagement, there were some comments of a positive note. "I see a lot of individuals of color [among the recruits] and that's a good thing," said one woman from the audience, "Do not forget where you came from."
To the women among the new officers another audience member said, "Our girls really need to see you in leadership roles."
In the end this was a positive interaction. There was a lot of optimism from the community and from the new recruits. "I joined because of a positive experience with a police officer in my youth," said one young officer.
Let's hope that through respectful, dignified community engagement these new officers can create many more positive experiences for our communities.
Providence adds 53 new officers, here's what the community said to them

,