We have many things to be proud of, friends. Providence is one of several great cities in our state. Sadly, we're in the top ten for something we should not be so proud of–Providence tops the ranks of U.S. cities for freeway miles per capita.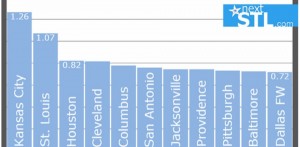 I was blown away when I attended a Rhode Map recently and found that we have no plan yet through that planning process to address urban highway removal, as has been done in cities great and small throughout the country. Providence should take its top ten status as a new impetus to remove expensive nightmares like Routes 6 & 10, to manage capacity on highways like I-95 and I-195 through bus rapid transit lanes, and to save on road expense throughout our urban areas through judicious use of road diets. These solutions are not only green, but reduce state infrastructure liabilities in a way that can give left and right what they each want: more money for services, and less need for high taxes to upkeep aging infrastructure.
As you can see, Kansas City & St. Louis are outliers. But Providence is well within the ranks of cities in Texas, as well as Rust Belt Cities like Cleveland and Pittsburgh. Pittsburgh is working very hard though to add protected bike lanes and build a more reliable transit system, though, so its situation (just a hair better than us on the chart) is probably a result in part of historical inertia. Maybe that's partially the case with us too. And we should have hope that we can turn it around. Seoul, South Korea has removed fifteen freeways, and we can certainly handle our smaller lot of removing many fewer. This is another area where being a really small city gives us an opportunity–yes, we have problems, but they're geographically small, so we can turn them around much faster.
In any case, it seems that we have a problem, and it's quantifiable. I've often felt like a Providence map, from far away, looks fairly close to a Philly map, but the difference is the geographic size of the cities. You have the same pattern of a freeway here and a freeway there cutting this or that area off, but if you pay attention to scale you realize that in some parts of Providence it may be just a ten or fifteen minute walk from one freeway obstacle to another, whereas for Philadelphia you may have to walk an hour or more. So it's gratifying to see the numbers and realize that the feeling is true.
In Philadelphia, certainly the feeling of crossing the Schuylkill Expressway is almost on par with crossing I-95 in Providence, but that has been improved recently with rebuilds of older, car-oriented bridges towards more multimodal ones like the South Street Bridge (which could still get better. . . Can we get some trees, or does that go against AASHTO requirements? Sigh. . . ). People in Philadelphia complain (rightly so) about the crossing to Penn's Landing, which feels similar to the bridge into India Point Park, but by Providence standards that crossing is quite nice. You have plants on either side of the bridge (somewhat) guarding you from the reality that you're over a huge interstate, and the streets on either side are unpleasant but at least not as bad as the I-95 service roads.
But I didn't write this to get people upset or to leave people without hope. Providence is a remarkable city in between its highways. It can turn things around very quickly in the areas where it's not a nice place. The first step, though, is seeing the measurable difficulty we face from our unnecessary urban freeways.