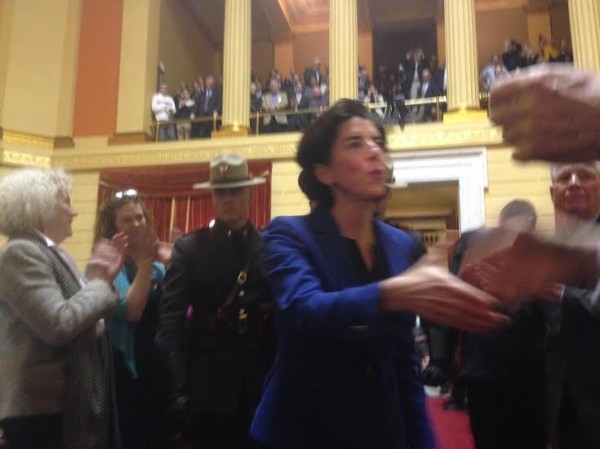 Governor Gina Raimondo has been hosting "listening sessions" with different constituencies among the education community in hopes of gleaning a better sense of what is expected from the next commissioner of education. In February, she met with teachers and principals in Providence. In early March, she met with parents and administrators in Cranston. And last week she met with labor officials in Warwick.
"This process was established to engage with Rhode Islanders who have already committed their lives to this issue," said Raimondo spokeswoman Ashley Gingerella O'Shea. "The Governor values public input and particularly, those community groups who are explicitly engaged in education."
And so on Tuesday, she will meet with a group of Providence students.
The Providence Youth Caucus – made up of the Providence Student Union, Young Voices and others – will spend about an hour and a half with Raimondo tomorrow night, starting at 5pm at Highlander Charter School in Providence.
While the forum is an opportunity for the governor to glean the student's thoughts on the next education commission, the students want to also discuss their platform for education reform in Rhode Island.
The Schools Providence Students Deserve
An education platform by and for the students of Providence, Rhode Island

Our Goals

We all agree that our school system needs some big changes. But we have noticed that, through every new wave of education reforms and solutions, one thing always remains the same: students' voices and priorities are regularly left out of the process.

We are the people in the classroom, and we are the people with the most at stake in our education system. As such, we know as well as anyone what really needs to happen to make our schools powerful places of youth learning and growth. Involving our voices is not only the fair and just thing to do; it is also the smartest way to actually design reforms that will positively impact our schools.

We—students from the Providence Student Union and Young Voices, in partnership with other student groups and youth across the city—have drafted this platform to establish a path towards the school system Providence students deserve.

We call on each of the candidates for Mayor of Providence to sign this platform and thereby commit to:

Creating a More "Student-Centered" Education System, including:

Introducing a more engaging curriculum and promoting hands-on learning
Developing strategies to better personalize learning around students' needs
Prioritizing interpersonal skills and technological proficiency that prepare us for the 21st century
Changing from a dependence on standardized testing to a system of performance-based assessments that can show the student as a whole
Allowing students to have more ownership over their own learning and understanding that learning can happen anytime, anywhere

.
Increasing Equity and Access, including:

Improving climate and culture by moving away from punitive disciplinary measures and toward restorative practices that address the root causes of behavior issue
Designing a safer and fairer approach to school transportation, including the reduction of Providence's walking distance to a maximum of two miles
Focusing not just on achievement gaps, but also on opportunity gaps. A student's race and class should not affect their ability to receive an empowering education Ensuring Adequate and Up-to-Date Resources, including:
Significantly improving our physical learning environment, especially with major investments in school infrastructure
Guaranteeing sufficient staffing for schools, including full-time teachers for subjects like math, science and arts, and important full-time staff like a school nurse and trained counselors in every school building
Ensuring access to useful technology in school buildings to give students the tools to meet 21st century standards
Prioritizing and funding arts, music, and elective classes, and recognizing that these disciplines are just as essential as math and reading