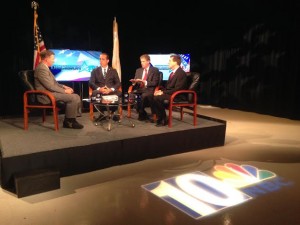 Secretary of State Ralph Mollis said he's "personally pro-life" but "governmentally pro-choice."
Mollis is running for lt governor and his stance on a women's right to choose came up when Democratic primary rival Rep. Frank Ferri, as well as Planned Parenthood of Southern New England, publicly questioned his endorsement from Rhode Island Right to Life.
"My personal and governmental beliefs conflict," Mollis told me. "Personally, I'm pro-life but the government should not prohibit a women's right to choose. I don't think they should inhibit or prohibit a women's right to choose."
He stood by the answer he gave during a WPRI debate. "I think I actually answered [the question] more accurately than anyone. For it to be safe it has to be legal and being that I'm pro-life I'd love for it to be rare."
Mollis said he had a change-of-heart on his public policy view of abortion six years ago, when someone close with him was considering an abortion.
"Six years ago someone very close to me was faced with that decision," he said. "I encouraged that person to have the baby. I told that person why they should, all the different reasons. And when hat discussion was done i told that person that no matter what she chose i would support it, I would respect it because it's her choice and at that moment I realized I was governmentally pro-choice."
When asked about late-term abortions, Mollis said there should be "some restrictions" on abortions. He said he wasn't familiar enough with mandatory ultrasound legislation to give an opinion.
Mollis said his views on abortion have nothing to do with how he will handle the lt. governor's office. "I don't think that's the litmus test for lt. governor."