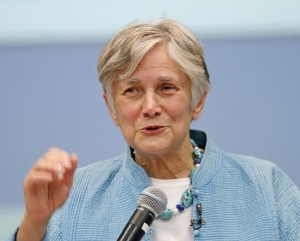 Former U.S. Assistant Secretary of Education Diane Ravitch who famously flip-flopped on the so-called school reform movement, gives a shout out – or at least a link back – to RI Future's Aaron Regunberg post on how high finance props up public charter schools.
Once an advocate for the charter school movement, Ravitch now calls attention to the inherent problems with allowing big business to fund public education on her blog DainaRavitch.org – it's necessary reading for anyone who cares about education policy.
This morning she writes:
You may have been naive enough to think that charter schools are multiplying because some people want better education for American children.

You may have thought they were expanding to give more choices to children trapped in bad public schools.

You may have wondered why they continue to proliferate when so many studies agree that they don't get better results than the public schools.

But if you thought those things, you were on the wrong track.

There are other reasons that charters are growing by leaps and bounds.

They make money for investors!
That send link takes readers to Regunberg's recent post on "the real agenda behind the big-box charter movement." He surmises that the agenda is to make money. When you read or watch the interview with David Brain, it will be hard to conclude that there isn't a huge push from the finance industry to make the charter school movement successful for its own sake.
There's s till a great debate going on in our comments section on this one, so please feel free to let us know what you think about charter schools and the education reform/deform debate.