As previously reported, a historic conference at Temple University intended to guide and radicalize activists in #BlackLivesMatter was held from January 8-10, 2016 in Philadelphia. We are going to post videos from the panels that have just become available online. Be sure to tune in tomorrow when we go to the historic black Mother Bethel AME Church in Philadelphia for a discussion with Revs. Jeremiah Wright and Rev. Dr. Renee McKenzie.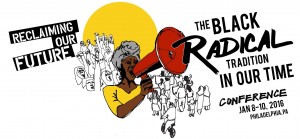 The first panel held was called The Moral Bankruptcy of Capitalism: The Black Radical Tradition as Socialist Alternative, featuring as speakers Drs. Cornel West and Anthony Monteiro and moderated Kashara White.
Dr. Monteiro is a longtime scholar and activist who has been active in the Philadelphia radical movement for decades. He is a scholar of the works of W.E.B. Du Bois and considered an academic expert on the black radical tradition. His agitation in opposition to the construction of a new Temple University sports stadium that would gentrify the historic black neighborhoods of Philadelphia is considered one of the many reasons why he was without warning fired from Temple after having spearheaded a campaign to preserve the Black Studies department he was a member of.
Dr. West is the acclaimed author of Race Matters and is the Professor of Philosophy and Christian Practice at Union Theological Seminary and Professor Emeritus at Princeton University. He has appeared in two of the Matrix films and the Smiley and West radio program he co-hosted with Tavis Smiley.
Reclaiming Our Future: People's Assembly 1- The Moral Bankruptcy of Capitalism

,