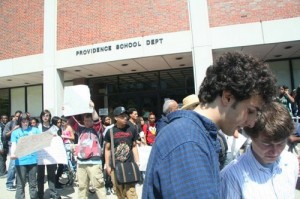 Aaron Regunberg, a recent Brown graduate and organizer of the Providence Student Union, announced his campaign for the District 4 seat in the state House of Representatives. THe seat is currently held by former speaker Gordon Fox and Sam Bell, previously a candidate for the seat, said he will step aside to support Regunberg.
"We need new voices and new leadership in Rhode Island," Regunberg said in an email announcing his campaign. "I'm running to make sure that every one of our public schools is providing the high quality, empowering education our young people deserve. I have fought for education change that comes from the bottom up, with youth, parents, educators, and community members. My work advocating alongside students has shown me what a difference it makes to have leaders who listen to and stand up for our young people, which is what I will do every day as State Representative."
Regunberg is also on the executive board of the Young Democrats of Rhode Island and he's a board member of the Billy Taylor House, and East Side workforce development program. While a student at Brown, he founded Brown for Providence, which helped convince Ivy League school to pay the Capital City more in lieu of taxes.
"I'm proud to stand behind Aaron," said Bell in Regunberg's press release. "I know he will bring new leadership and a strong progressive voice to the State House, and I'm very excited to support his candidacy."