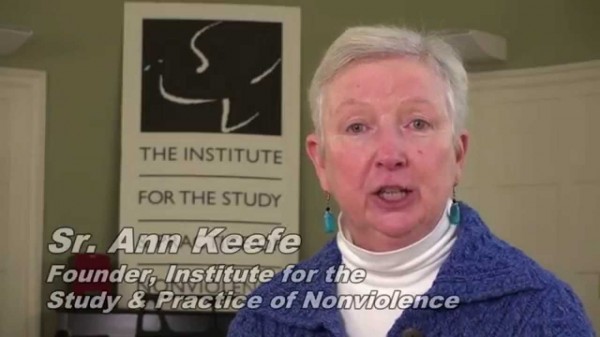 Sister Ann Keefe, one of Rhode Island's most respected and stalwart social justice activists, has passed away. She was 62, according to a recent homage by Edward Fitzpatrick of the Providence Journal.
"In a better world, Sister Ann would be the bishop or governor," he wrote.
Fitzpatrick reported in late November Keefe "has been battling brain tumors and is now home, receiving hospice care."
Governor Gina Raimondo, who mentioned Keefe at her inauguration speech, said in a statement:
"As one of our state's strongest voices for social and economic justice, Sister Ann Keefe always pushed us to be better and to do better for one another, especially our less fortunate neighbors.  From City Arts to the Institute for the Study and Practice of Nonviolence, and every cause and organization in between that she touched, her tenacity to tackle the problems too often ignored will be greatly missed.

We must all work to honor her memory everyday by promoting kindness, peace and justice in our homes, our schools and our neighborhoods.  Our thoughts and prayers are with her family and friends during this difficult time."
.
Congressman David Cicilline said:
"Like all Rhode Islanders, I am deeply saddened by the passing of Sister Ann Keefe today. I had the extraordinary honor of working with Sister Ann over many years and treasured our friendship. While working at St. Michael the Archangel Church over the last 30 years, Sister Ann left an indelible mark on Rhode Island and her dedication, spirit, and generosity to others will be missed by everyone. She was a remarkable and strong woman who took action to help the poor, empower workers, advocate non-violence and promote justice for all. She championed causes that have helped countless Rhode Islanders, founded community organizations that continue to create opportunity for so many, and leaves behind a great legacy. Her passing is a tremendous loss for Rhode Island and my thoughts and prayers are with her family and loved ones. Rest in peace, Sister Ann."
.
Providence Mayor Angel Taveras said:
"I was deeply saddened to learn of the passing of Sister Ann Keefe," said Mayor Jorge O. Elorza. "Sister Ann was an extraordinary woman whose humble and fierce commitment to standing with the most vulnerable and least fortunate among us had a profound and lasting impact in our City. To know Sister Ann was to understand the true power of love and humanity. I join with everyone in my administration and all those who were fortunate to know Sister Ann in mourning her passing. We will ensure Sister Ann's legacy by carrying on her lifelong commitment to advocating for peace, justice and love for every member of our community. I have ordered that all City flags be lowered to half-staff in Sister Ann's memory."
.
There are more remembrances on her Facebook page.
The Providence Journal, which credits her with the "establishment of nearly two dozen well-known community organizations," has more, including a lengthy statement from Teny Oded Gross, of the Institute for the Study and Practice of Nonviolence – one of the organizations Keefe helped to launch.
Rest in peace, Sister Ann

,