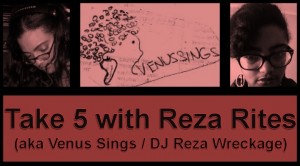 Heard of South by Southwest, but can't be in Austin yourself? Pop in daily to "Take 5 with Reza Rites" on RIFuture.org for photos and live updates about her adventures at the annual festival – or follow her on Twitter and Facebook @rezaclif. Besides blogging for RI Future, Reza will be recording interviews and footage for an election-year multimedia project being released in June, "Rhode 2 Africa: Elect the Arts 2012."
PROVIDENCE, RI & AUSTIN, TX – For those who don't follow me or RI Future on Twitter (and I recommend that you do), you may have missed some pretty cool news: RI Future is going down to South by Southwest in Austin, TX – represented by me, Reza Rites!
Now, for those not quite sure about what SXSW is…
It's only one of the biggest annual cultural festivals for techies, filmmakers, and musicians! And Reza Rites / RI Future won't be the only New England folks there. So far I've received tips and tweets from peeps and tweeps about artists from Worcester, Providence, and Narragansett (Shane Hall, Soldiers of Life, Joe Fletcher and the Wrong Reasons, Boo City, and 5th Elament to name my current list) – and those are only local / regional folks!
I leave later this afternoon, but to get mentally prepared, I spent the last two weeks talking to representatives from Boo City and ERB about what to expect. To summarize their answers – it'll be a big party.
So yes, I'll be taking some of my music and dancing shoes out there because the DJ and music consumer in me can't be silenced.  But if you know me or have been following my posts here on RIFuture.org, then you know that I view music as more than just gateway to fun. And my participation in SXSW could be no better demonstration than this.
Not only will I be in Austin blogging for RI Future and capturing the "cool," I'll also be down there talking about politics and election year 2012. That is because this trip represents the final phase of filming for a a multimedia project I began in October called "Rhode 2 Africa: Elect the Arts 2012" (R2A 2012).
Below is an excerpt about the film/series; for additional information, visit www.Rhode2Africa.wordpress.com or click here to access the information page. To make a donation toward the project to help me with producer and artist travel costs, equipment purchases, or staff supports, click here.
***
Riders Against the Storm (RAS) is a husband-wife hip hop duo who relocated from Providence to Austin, bringing their political and social justice message right with them. They are participating in SXSW and they will be featured in Rhode 2 Africa: Elect The Arts 2012. Prior to moving, RAS participated in R2A Year One. 
ABOUT RHODE 2 AFRICA: ELECT THE ARTS 2012
There is room at every election to hear and examine new voices and ideas. This year is no different. As a matter of fact, as protesters part of Occupy Wall Street, and break-off movements like Women Occupy and Occupy The Hood have demonstrated, citizens across this country have grown tired of never hearing from the variety of voices making up the "99%." Still, if you pay attention to major news outlets, you would think that the only people who care about the November elections are the all-white Republican candidates and their party followers.
One place in which you can hear alternative voices and views on politics is within the music community. Besides being heads of households, tax-payers, insurance-holders, and voters, there are many performers who play at political events, directly and indirectly endorsing candidates; hip hop artists who "rap" about reform and rebellion; and emerging and established artists who've performed at The Whitehouse.
Rhode 2 Africa: Elect the Arts 2012 is about sharing the voices of Black musicians engaged in this type of work. Standing in contrast to the limited news coverage we see daily, R2A will provide election 2012 coverage and awareness through conversations on race, politics and music.  Our goal is to make sure that diverse constituencies are motivated to vote in November and engaged in political conversations at the local, national, and global level.
***
CONTACT INFO
Reza Corinne Clifton:
"Reza Rites / Venus Sings / DJ Reza Wreckage"
rezaclif@gmail.com / 401-217-9680 / singsvenus@gmail.com
www.Rhode2Africa.wordpress.com / www.VenusSings.com /
www.RIFuture.org / www.IsisStorm.com /
Facebook & Twitter @rezaclif
NEXT STEPS
Learn more about R2A 2012 by clicking here and getting more information about the project, which is in-production and scheduled to be broadcast-ready and screening-ready in June, 2012.
Learn more about R2A Year One by clicking here to watch and listen to R2A Year One episodes.
Help fund the project by clicking here to make a donation toward the project to help with producer and artist travel costs, equipment purchases, and staff supports.
Tell a friend or potential sponsor/donor.