The influential Guardian newspaper ran a story on Friday, January 22, 2015 titled US authorities distorting tests to downplay lead content of water that calls into question lead testing techniques allegedly encouraged state of Rhode Island employees. At the heart of the report is a letter written by Dr. Yanna Lambrinidou of Virginia Tech under the letterhead of Parents for Nontoxic Alternatives.
Dr. Lambrinidou writes to the EPA National Drinking Water Advisory Council (NDWAC):
I share fully the working group's commitment to a revised LCR [Lead and Copper Rule for plumbing] that maximizes the protection of public health. I also commend the working group for its bold and innovative idea of building a brand new rule that is based on proactive, rather than reactive, full lead service line (LSL) replacement. As I mention in my statement, I see this as a step in the right direction. Unfortunately, however, my extensive experience with lead in drinking water in Washington, DC and nationally, has led me to believe that the working group's specific recommendations for how to implement a forward-thinking LCR would leave consumers less protected from exposures to lead and drinking water than would a revised version of the current rule that closes its well-known loopholes.
The attached statement includes links to reports made by Rhode Island Public Radio regarding the cessation of lead water line replacements and says there is a significant level of lead contamination in the Providence water supply as well as the wider state supply. Here is a letter she recently wrote to the residents of Philadelphia that has applications also to Rhode Island:
Simultaneous with this report, Next City is running a report by Cassie Owens titled Providence Maps Show "Apartheid Lines" of Environmental Racism that deals with the placement of toxic storage facilities in relation to poor neighborhoods, including this graphic.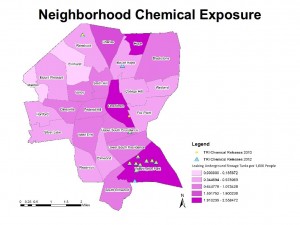 Rhode Island's Future is going to continue to follow this story and investigate this issue to the fullest extent possible.