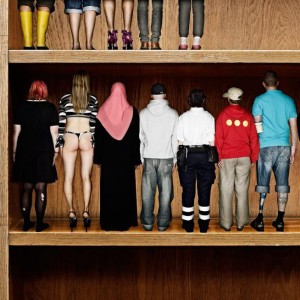 I've always been fascinated with hearing people's stories.  To learn about another person's experiences and history is to begin to truly understand who they are.  I've always considered peoples' previous learned experiences and the circumstances from which they came as the fundamental foundation for their existing belief system.
Rhode Islanders will have the opportunity to hear one another's stories as Barrington Public Library, East Providence Public Library, and Providence Community Library are collaborating to create a Human Library in Rhode Island on Sunday, March 3rd from 1-5pm (snow date March 10th) at Rochambeau Library, 708 Hope St., Providence. The Human Library Rhode Island is a living, breathing library where humans are the books and the stories are their lives.  Just as memoirs and autobiographies teach us to see the humanity in people different from us, the human books tell of their own lived experience, breaking down assumptions, biases, and misunderstanding with every word.
Based on a Danish project, now with worldwide participation, the Human Library's aim is to allow people to interact with other members of their community with whom they might not otherwise have contact, or who they might have preconceptions about but want to understand. This is a great opportunity to bring Rhode Islanders together in the public library for an afternoon of conversation, discovery, and growth.
Here are a few samples of what you could hear:
Immigrant or Outsider?
I grew up in an environment of low-tolerance for Mexicans and personally experienced prejudice as a child. I have been made to feel like an outsider in childhood and as a young adult. I also grew up watching some of my friends snatched and deported to Mexico. I thought that this was an injustice; and it made me sensitive to how it feels to lose someone you are close to. I am interested in learning what makes someone insensitive and anti-immigrant. More importantly, I would like to help change anti-immigrant sentiments in someone and provide a better understanding of what it is like to be an outsider.

Masks
I was born with a birthmark that covers my right cheek. Growing up, I learned to deal with the cruelty, shame and isolation that come with being so obviously different. For 12 years, I wore a heavy make to cover the birthmark, and I lived in hiding for those terrible years. When I was 29, I removed the make-up and began the journey to living and loving who I am. That journey continues and it continues to heal me and to heal others as well. I would like to share this story and this journey because I am now an open book.

Searching for Meaning in Outside War
I am a retired U.S. Navy Captain and current high school math teacher. I love the United States Navy. I think it is one of America's greatest institutions, one which gave meaning to my life for 25 years. I do not, however, love militarism and I do not love war. I am a pacifist. In a highly militarized society, I have come to believe that war is never a good solution or even a necessary one. It is not the kind of meaning I want to define my life. As a teacher, I find meaning in doing very small but substantive good. I can make a small but positive difference every day. This is how I want to define my life. This is how I want to be remembered.
For more information, visit: http://www.humanlibraryrhodeisland.com/; or, email: humanlibraryri@provcomlib.org.  Funding for this project was generously provided by the Rhode Island Council for the Humanities, and the Friends groups of the three library systems.
Our Stories: Rhode Island Human Library Project

,