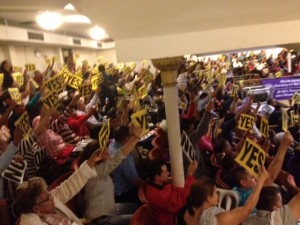 About 600 janitors in Rhode Island may go on strike at the end of the month if they aren't able to negotiate a new contract that would guarantee them more hours and better wages, said Rachel Miller of the SEIU 615.
They work for CVS, Citizens Bank, Textron, TF Green Airport, Fidelity, Bank of America and FM Global, she said, "yet they are having to work two and three jobs just to get by."
The 600 Rhode Island custodians are organized with SEUI 615. There are 14,000 custodians in New England who may go on strike when their current contract expires on September 30.
According to a press release from the SEIU:
Fair wages and the opportunity to work increased hours can mean the difference between a good, middle class job and living in poverty. Many janitors are offered only 20 hours a week and janitors in Rhode Island earn as little at $39 a day. Workers are working harder and having to supplement with other income just to make ends meet. New England now has an opportunity to go forward—towards good jobs and stronger communities—instead of backward to poverty wage jobs that do not support their families and neighborhoods.
The custodians voted to authorize a potential strike on Saturday. Here's a video of the vote: