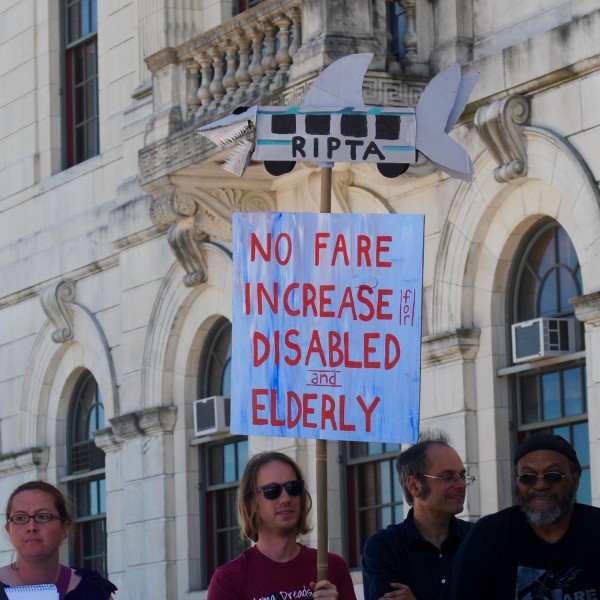 The RIPTA Riders Alliance rallied at the State House yesterday to call attention to bus fare increases to the elderly, disabled and very low income people.
RIPTA decided to end free bus fare for these riders earlier this year. The House budget restored free fares for the elderly and disabled until January. Advocates say it would cost the state $800,000 to extend the service for the entire year.
RIPTA riders who utilize the reduced fare spoke at the rally about why they need it and how it affects their lives.
"If we already can't afford to get to and from places and RIPTA raises the fare where does that leave us," asked Michael Viera, who is disabled and uses a wheelchair. "If this program doesn't exist I would not be able to make it to all my doctor appointments."
A developmentally disabled man said, "If I don't ride bus free I will be lonely and stranded."
Another RIPTA rider added, "It will not only restore the sanity to our souls, it will also keep us materially safer."
Malcus Mills, an organizer with DARE, said, "The board at RIPTA are not thinking of the people they serve. They are not thinking about us. They are not thinking about the low income folks who need this the most."
One woman called it, "simply a matter of justice. The fact is RIPTA gets funding from all of us through our taxpayer dollars. The fact that we all pay into it, we all should be able to access it. We should not be segregated from other people."
Another said, "I know there is money in the budget, they just want to squander it on their friends."
Camilo Viveiros also spoke about legislators role in the process. "Are they going to use their expertise to assist the most vulnerable? Or are they going to throw people who are disabled and seniors literally under the bus?"
Randall Rose added, "We have to keep fighting for this. We already achieved something. RIPTA wanted to raise the fares in July, but we postponed it at least six months and we can keep doing it as long as we keep coming out here."