Tuesday marked the second day of BXE's Rubber Stamp Rebellion targeting the Federal Energy Regulatory Commission for its approvals of fossil fuel projects. Activists spent the morning on Capitol Hill seeking support from senators in states with pending projects before FERC;, the afternoon visiting offices of some of the companies seeking to build those projects, and, from 6 p.m. into Wednesday morning, holding a vigil outside the home of FERC chairman Norman Bay in the Dupont Circle neighborhood.
Starting around 10 a.m., the group visited Florida Sen. Ben Nelson asking him to oppose several projects moving through the FERC approval process: the Sabal Trail gas pipeline project; New YorkSen​ators Chuck Schumer and Kirsten Gillibrand asking them to speak out against the Spectra AIM pipeline and Rhode Island, Sen. Sheldon Whitehouse, who has a reputation as a climate hawk but who has not responded to his constituents' demands that he oppose a multitude of gas projects in the state, including a gas liquefaction facility near Providence. Peter Nightingale, a member of Fossil Free Rhode Island and a professor of physics at the University of Rhode Island, says: "In addition to asking Sen. Whitehouse to oppose the liquefaction facility, we want to explain to him that his support for natural gas as a bridge fuel is misguided. Natural gas is worse than coal and oil for global warming."
In the afternoon the Rebellion moved to the D.C. headquarters of some of the corporations that have benefited and hope to benefit from FERC's almost unanimous project approvals.
At 6 p.m.,​ another gathering will converge on the home of FERC Commissioner Norman Bay, 1631-1/2 19th St. NW, to hold him accountable for expediting fossil fuel projects that wreck communities and the planet. Methane (so-called "natural" gas is 96 percent methane) contributes 86 times more global warming gases to the atmosphere, per unit mass, than carbon dioxide in the first 20 years after release. Several prominent climate scientists say that if we don't drastically reduce methane releases immediately, there's no way to keep global warming under 2 degrees Celsius. Some of Bay's visitors will spend the night outside his home and hope to converse with him in the morning.
The RubberStampRebellion got off to an energetic start on Monday, as BXEers sang, chanted, and channeled sounds of fracking-related destruction through a sound system, like chain saws cutting down trees that FERC gives companies permission to destroy through the use of eminent domain for private gain.
Monday afternoon, seven climate activists were arrested for blocking the driveway leading to the underground parking garage at FERC. They were charged with unlawful entry and have a court date June 9.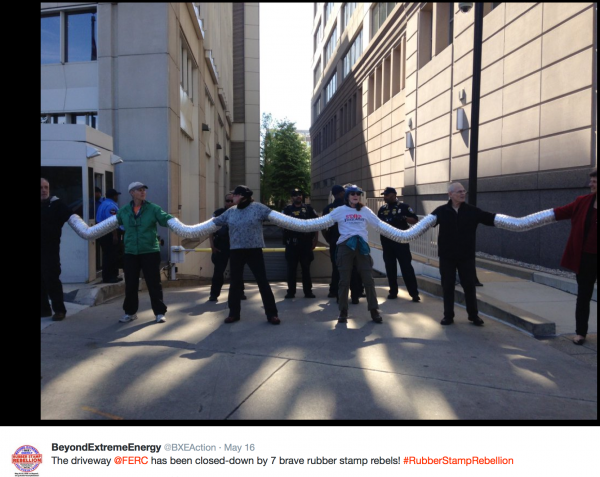 In the evening, six activists visited the Ashburn, VA., home of FERC commissioner Tony Clark.
Although the activists didn't bring toxic and climate-wrecking air and water pollutants that FERC permits, they taped posters in a park across from the Clark townhouse that included a photo and notified neighbors:
Tony Clark, Commissioner of the Federal Energy Regulatory Commission, Rubber stamps fracked gas projects for the oil and gas industries; Complicit in the deaths of 100 million people which the World Health Organization says may die by 2030 due to climate change.

They also posted on his front door a notice of eminent domain, similar to the orders used to seize land for pipelines for transporting fracked gas. In March, BXE had a #PancakesNotPipelines action at FERC to protest maple trees razed under an eminent domain seizure for the proposed Constitution pipeline in Pennsylvania and New York, even though all state permits had not been granted. With Josh Fox and Tim DeChristopher acting as pancake chefs, landowner Megan Holleran served up the last drops of syrup from her trees at the event. A week after the Holleran family's maple trees were cut down, New York said it would not issue permits needed for the pipeline. Read about that action here.
Among those visiting the Clark residence for the #RubberStampRebellion was Wes Eastridge from Marshall, Va., who said:
We're fighting against the continued development and reliance on methane–because it's totally unnecessary. FERC allows companies to destroy people's property with eminent domain and that methane is obtained by an extremely destructive process known as fracking.
​BXE will be visiting all four FERC commissioners at their homes this week.​
Stay tuned & read this blog for updates.
[Based on a BXE press release.]
Rubber Stamp Rebellion goes to FERC chairman's house

,