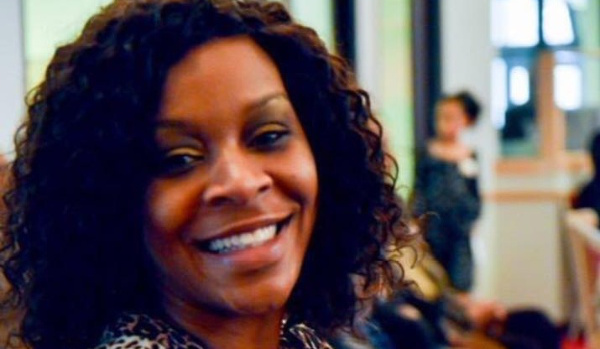 Maybe we should have known, now that people's videos have brought more public attention to police abuse, that it wouldn't be long before some police returned to the "She killed herself" line.
An African-American woman in Texas, Sandra Bland, was found dead in jail last week. A policeman had pulled her over for not signaling as she changed lanes, but that traffic stop last Friday ended with her being arrested.  The next day, she called her family from the local Texas jail, worried that the arresting officer might have fractured her arm. Like many people who suffer police-inflicted injuries under circumstances that raise questions, she was charged with "assaulting a public servant".
As her Facebook account shows, she spoke out often on racial issues, and what I've heard suggests that she spoke equally freely during her traffic stop, which it seems is something that a lot of police officers really dislike. Now, I don't want to rule out the police version of the story: maybe this woman, who had done nothing wrong besides changing lanes once without signalling, did somehow decide to use force against the police officer, despite all the precautions that police take to keep themselves maximally safe during a traffic stop.  Or maybe she did something else that made him mad. Anyway, the officer chose to arrest her with considerable violence, in an arrest caught on video.  As the public servant who she is accused of assaulting arrested her so forcibly, she said:
"Hey! You just slammed my head to the
ground!" she yells. "You do not even care
about that? I can't even hear!"

"All of this for a traffic signal!" she
continued, telling the passerby filming,
"Thank you for recording! Thank you!"
As the media later said, she yelled.  She was someone who was willing to yell in a situation like that.  Maybe something like that is what got her charged with assaulting the public servant.  In any case, she was arrested last Friday and not released — with bond set at $5000 for assaulting a public servant — which meant that she was still in jail three days later on Monday, when she was found hanging in her cell, with her death reported as a suicide.
Her family says Sandy Bland would never have killed herself. They say she had many who loved her, and she had just moved back to her hometown to start a new job at the college she graduated from.  She seems to have been a decent person — the things she was yelling as she was being arrested help show this, I think.  She repeatedly shows her gratitude to the bystander who's taking the video, she's surprised and indignant when the public servant seems not to care about the pain he's causing.  Would someone like that have hung herself in her cell after a few days in jail?  If so, that would raise serious questions in itself about what was done to her.
But yes, there was something she was clearly pretty unhappy about, despite also having considerable happiness in her life.  She said it on Facebook before her arrest:
Being a black person in America is very, very hard. Show me in American history where all lives matter.
Whether this often leads people to suicide is a statistical issue (and I think the statistics on that say something great about black women as a group).  But I want to drop statistics and listen to what Sandra Bland said.  Did her unhappiness about how black people are treated, which she expressed so freely, somehow lead to her death?  One way or another, it definitely did.  The regime of jail was not good for this woman who wanted to speak for herself, or she was not good for it.  She didn't fit in the system.  Perhaps the problem was that this woman was even in this system we have.
The sheriff's office says, in their statement on how she came to be hanging in a cell, that it "appears to be self-inflicted asphyxiation".  Maybe she did it with her own hands even though, as I mentioned, she was worried her arm was fractured.  During her arrest, as the public servant with his knees on her back was pulling her arms up behind her, she yelled "I can't feel my arms!"  I wonder if she ever got enough treatment in jail for her injured arms before, as they say, she killed herself.
In jail there are no videos taken by passersby; they take away anything that could be used for that.  That's why we can see what happened at the end of her arrest but we can't see what happened at the end of her life, when she ended up strung up in a cell.  This kind of thing is why it should not be easy for police to place someone into custody. Those who believe in civil rights are commonly seen working to make it less easy for police to take someone into custody based on a pretext or a weak reason; we've all seen the way civil-rights supporters do that, and I guess Sandra Bland's death is a good example of why it needs to be done.  There isn't conclusive evidence to prove what happened in her case, but what I've heard is certainly enough to make me wonder. And I want to repeat the two questions Sandra Bland asked — they're worth bringing up again. One question is the one she asked the public servant who was arresting her:
"Hey! You just slammed my head to the
ground!" she yells. "You do not even care
about that?"
That question wasn't answered, but it's pretty clear what the answer would be.  The other question is the one she left on her Facebook page from before she was arrested:
"Show me in American history where all lives matter."
That one hasn't been answered yet either. Can we change what the answer is?
This was in Texas, not Rhode Island, but I don't want to make this about trashing Texas; different areas of the country have similar problems and we need to work together to overcome them.  There are racial issues and there are police issues; Sandra Bland's death brings up both in an important way, which is why I'm bringing it up on this site. One petition for her is here, calling for the federal government to take over the case.
#JusticeForSandy
Sandra Bland didn't kill herself

,