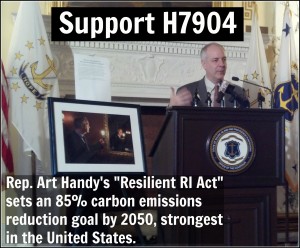 A petition with more than 500 signatures will be awaiting the Senate Environment and Agriculture Committee when it meets today to discuss the Resilient Rhode Island bill that aims to address climate change in the Ocean State.
"We need to plan ahead for climate change in order to achieve positive solutions that work for all Rhode Islanders, not wait until strife and necessity dictate our responses," reads the petiton. "We need our state and local government to consider climate change when making decisions, and the act ensures that state and local government have the information and tools they need to protect Rhode Island's economy, public health, and welfare."
You can sign the petition here. And listen to an in-depth interview with Rep Art Handy on the Resilient RI bill here.
"If we had passed legislation like the senate climate bill 20 years ago as the science was telling us to, we could have minimized the damage done by the extreme weather of recent years while we grew jobs by accelerating our transition to a clean energy economy," said Abel Collins, program manager of the RI Sierra Club and author of the petition. "Fortunately, the innovative leadership embodied in the bill can still reduce the negative impacts of climate change while maximizing the economic benefits of building a resilient Rhode Island."