Four of the seven activists arrested for blocking the driveway at Federal Energy Regulatory Commission (FERC) headquarters during Beyond Extreme Energy's #RubberStampRebellion in May are taking their cases to trial.
At the Superior Court of the District of Columbia yesterday, #Sidewalk7 members Claude Guillemard of Baltimore, MD, Ellen Taylor of Washington, D.C., and Donald Weightman of Philadelphia, PA, said that they would go to trial, set for Dec. 8, for their May 9 blockade at the FERC.
Peter Nightingale, of Kingston, RI, was arraigned only yesterday because he was out of the country during the first court date. He says he intends to go to trial. BXE and other groups have long criticized the agency for rubber-stamping fracked-gas pipelines, compressor stations and export facilities that it reviews.
"We have been charged with unlawful entry," Weightman said, "but the real crime is the unlawful entry of methane and carbon dioxide into our air, the unlawful entry of toxic waste into our water, and the unlawful entry of global warming into the future of our world. The real weapon is fracked gas; FERC is the real defendant; we will charge FERC with the commission of a crime."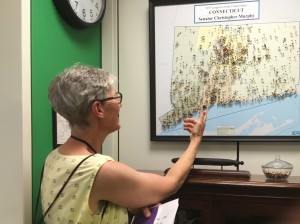 The other three #Sidewalk7 activists – Melinda Tuhus of Connecticut, Clarke Herbert of Virginia and Linda Reik of New York – agreed to perform 32 hours of community service and to stay away from the 800 block of 1st Avenue NE, the area of the FERC offices, for four months.
The court actions yesterday were part of the ongoing resistance to fracked-gas infrastructure, including demanding a halt to expansion of Spectra's AIM Project pipeline. #StopSpectra activists have declared a "state of emergency" in advance of a noon press conference Thursday outside the Manhattan offices of Sens. Charles Schumer and Senator Kirsten Gillibrand. The senators wrote a letter to FERC on Aug. 3 calling for construction to stop. In February, Gov. Andrew Cuomo also asked FERC to postpone the pipeline expansion.
After the court hearing, New York, BXE, and Fossil Free Rhode Island activists hand-delivered invitations to the press conference to the senators' Washington offices.
The pipeline "would bring fracked gas from Pennsylvania to New England, despite a report from the Massachusetts Attorney General that shows no need for this gas," the letter said. "In NY, if completed, the AIM Pipeline would carry gas through residential communities and within 105 feet of critical Indian Point Nuclear Power Plant safety facilities.
Just last April, Spectra Energy's Texas Eastern line erupted into a giant explosion due to pipeline corrosion, and New Yorkers fear what an explosion of this magnitude could mean in such close proximity to Indian Point. Over the last several years, communities along the pipeline route have risen up against the pipeline, and are counting on New York senators to help stop this dangerous project."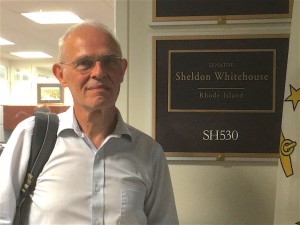 Activists delivered a letter from Fossil Free Rhode Island to Senator Sheldon Whitehouse's office.  The senator is generally considered to be a climate champion, but he supports fracked gas as a bridge fuel. The letter asks the senator to change his position so that it is consistent with science and with the nation's obligations under international treaties, the Rio Declaration in particular.  The letter ends stating: "As a small step in that direction, maybe you could start by following Bill McKibben's suggestion, 'correcting the outmoded way the EPA calculates the warming effect of methane.'"
In June, DeSmog Blog reported  that a FERC employee who was the agency's project manager for reviewing the then-proposed AIM pipeline had been hired by an engineering company that is one of Spectra's main contractors. DeSmog Blog reported in May and July that a contractor hired by FERC to conduct an environmental review of a Spectra project was already working on related Spectra pipeline projects. U.S. Senators Elizabeth Warren and Ed Markey have written to FERC Chairman Norman Bay asking about the "potential conflicts of interest."
A campaign of nonviolent civil disobedience is also ongoing in West Roxbury, MA, where 165 people have been arrested so far blocking construction of the West Roxbury Lateral pipeline.   Resist the Pipeline is coordinating those actions. In addition, the City Council, mayor, the state representative, state senator and U.S. Congressman Stephen Lynch oppose the project.
Boston City Council President Michelle Wu said, "Climate change impacts us all and especially future generations. We need immediate, bold action to transition rapidly away from reliance on fossil fuels to renewable energy. Building new natural gas infrastructure, such as Spectra Energy's West Roxbury Lateral Pipeline, is wrong for our communities and wrong for future generations. I applaud the thoughtful, purposeful, nonviolent civil disobedience West Roxbury residents and friends are practicing to accomplish what needs to get done."
In addition, Massachusetts' highest court ruled today that the state can't force residential ratepayers to subsidize the construction of pipelines. "This is an incredibly important and timely decision," said David Ismay, lead attorney on the case for Conservation Law Foundation. "Today our highest court affirmed Massachusetts' commitment to an open energy future by rejecting the Baker Administration's attempt to subsidize the dying fossil fuel industry. The course of our economy and our energy markets runs counter to the will of multi-billion dollar pipeline companies, and, thanks to today's decision, the government will no longer be able to unfairly and unlawfully tip the scales."
[Based on a BXE press release.]