The next mayor must re-envision our city streets by supporting pr
otected bike lanes. Westminster on the West Side is the first place Providence should start the transformation.
Providence does not have cavernous streets like Los Angeles, but many of its streets are much wider than streets in other East Coast cities, but without bike infrastructure. While Philadelphia has buffered bike lanes that are eight feet wide on streets that are around twenty-four feet wide, there are no such lanes on the W. Side's Westminster Street, which is about forty feet wide.
We would like the city to implement bike lanes on Westminster because:
*Bikers already use Westminster, but at their peril. Although a 25 mph street, cars routinely go over 40 mph on the street. Parked cars mean that people on bikes have to "take the lane" on a street that is too fast for them to ridesafely and comfortably in mixed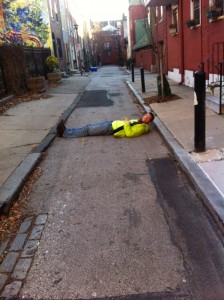 traffic.
*Westminster is home to several schools, including three high schools. Protected bike lanes will help students to get to school more independently and safely.
*Protected bike lanes will be a great improvement over less advanced infrastructure that already exists on Broadway. Studies show that elderly riders, small children, disabled persons, and people who are less athletic are much more likely to use protected infrastructure than narrower lanes that are next to parked cars. Protected bike lanes also prevent dooring.
*Studies also indicate that bike lanes are good for business. Cyclists spend more money on average than non-bikers, because of the money saved on transportation. While biking infrastructure will improve the business climate of Westminster Street, it will also provide an affordable way for low income people to continue to enjoy the neighborhood. We want transportation solutions that improve our neighborhoods, but don't price people out.
*We have proposed that businesses be able to test out these bike lanes as temporary infrastructure. We feel confident that the neighborhood will like the change if they get a chance to see it. Important projects like the closure of Times Square in NYC to cars happened first as temporary projects. They soon proved so popular that they are permanent, and are inspiring change in cities around the world.
We will be in Fertile Underground for the snow tomorrow, collecting signatures. Come in, enjoy some coffee, and show your support for a more sustainable city!
~~~~
Sign Our Petition for Protected Bike Lanes on the West Side

,