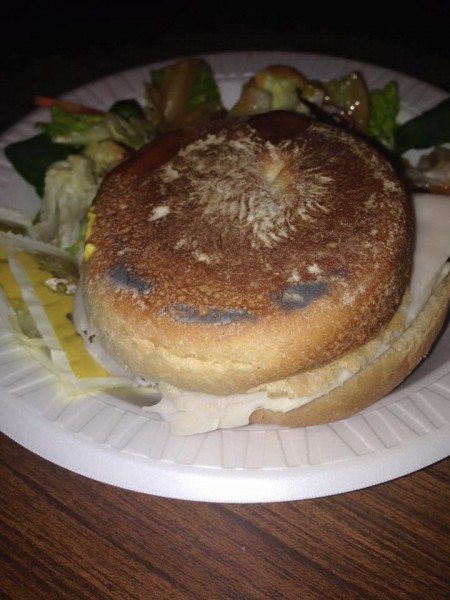 Leslie Ann Ortiz fears that she may have eaten moldy food in the school cafeteria after her friend showed her the mold on the bottom of her sandwich, the same kind of sandwich Ortiz had just finished. Ortiz is is a Junior at Classical High School in Providence.
"Yesterday at lunch my friend and I got sandwiches and I ate mine and [my friend] yelled, disgusted. [She] showed me the mold and I went to tell a teacher and they did nothing," Ortiz told me. She took the picture of her friend's moldy sandwich and shared it on social media.

"I didn't look at my sandwich so it's gross, you know?" Ortiz said.
In the comments of her Facebook post, Ortiz wrote, "I've also found mushed green gooey rotten red apples, a juice dated to 2001 and grilled cheese sandwiches where they just rubbed cheese on it and took it off."
Lunches in Providence schools are contracted out to Sodexo. Sodexo's page on the Providence Schools website says that the company, "delivers healthy and delicious school meals based on the USDA's nutrition guidelines so that students are engaged and ready to learn in school. All meals include a variety of fresh fruit and vegetable choices, and a variety of chilled non-fat or low-fat milk."
Sodexo did not return my calls in time for this story. Calls have also been placed to Classical High School and the office of Mayor Jorge Elorza.
After seeing the photo online, lawyer and community activist Shannah Kurland quipped, "Wtf?!! Sodexo IS the school to prison pipeline!"
"I was trying to show everyone in my school this so they can watch out," said Ortiz, "the quality [of the food] is just horrible and that's why me and a lot of students would rather starve then eat that stuff."
Classical student shares photo of moldy lunch from Sodexo

,