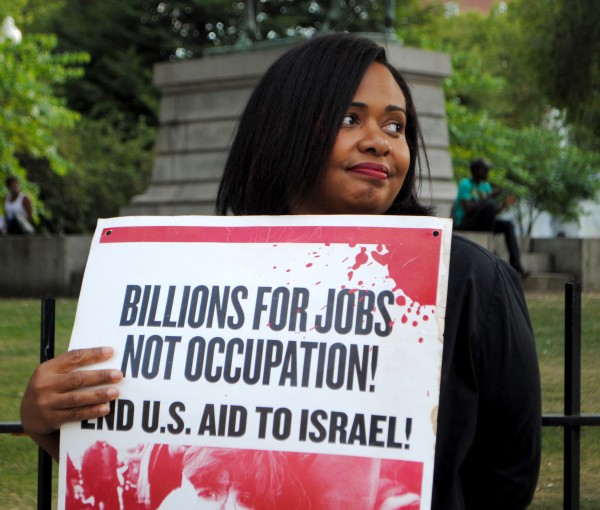 Since no one interested in social, economic or environmental justice was getting anywhere near the mansion in Newport where President Obama is attending a $32,000 a plate political fundraiser, (in which the 1% will purchase access to the government the rest of us will never know) anti-war activists gathered in Providence, at Burnside Park, to call some small measure of attention to issues that matter.
The response to Obama took place after the Gazan Solidarity Rally, which has been running weekly since Israel's most recent military siege. As one peace event ended the next seamlessly began. In all about thirty people attended the two events.
The protesters spoke to passersby, handing out flyers that elucidated the similarities between the situation in Gaza under Israeli occupation and conditions in Ferguson, MS in the wake of the shooting death of Mike Brown, an unarmed black man. The list of demands made by the Providence protesters included stopping the war on Gaza, stopping police brutality in communities of color, ending all U.S. aid to Israel, ending U.S. military incursions in the Middle East, ending NSA spying on private citizens, and ending the militarization of the police.
"One reason for our choice of locale," said Paul Hubbard, spokesperson for the Rhode Island Antiwar Committee, "is that President Obama will be fund-raising among the 1% at a secluded, ocean-front mansion in Newport. The other 99% of his constituents will probably be unable to catch even a glimpse of him, due to the blocked roads and high security surrounding his brief visit. This situation strikingly symbolizes the truth about which groups the U.S. government is really serving."
Rallies like this seem small and inconsequential when stacked up against $32,000 fund raisers and the corporatization of the military and the militarization of the police, but such rallies offer up another way of thinking about the world and another way of being.
What is being offered is peace, and the courage to embrace it.
Poet and activist Jared Paul read his six-part, "Apartheid Then, Apartheid Now" which you can watch on video below: