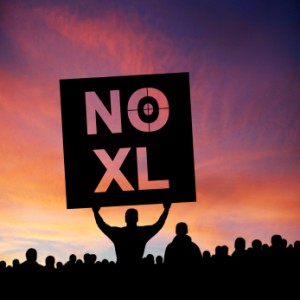 Nearly 30 people braved freezing temperatures and icy winds to protest the proposed Keystone XL Pipeline in Wakefield last Monday, February 24, from 6-7 pm. The action was organized by a coalition of environmental groups including 350.org, CREDO, and Rainforest Action Network in response to the State Department's final Environmental Impact Statement on the pipeline, released on January 31st.
It was originally planned for February 3rd, when over 300 vigils were held in 49 states with tens of thousands of people as part of a National Day of Action against the pipeline but, ironically, a winter storm brought heavy snowfall and slippery roads to the area on February 3rd, causing the vigil to be postponed to the 24th. A similar vigil in Providence went ahead as planned, but was sparsely attended.
The Wakefield vigil, held last Monday at Dale Carlia Corner, drew at least 28 people, who spread out over a traffic island and three corners of the intersection, holding signs they had made themselves. Drivers clearly noticed: some rolled down their windows to ask what it was about or to shout their agreement, and many tooted their horns in support.
The vigil was organized by the Green Task Force of the Unitarian Universalist Congregation of South County (UUCSC), and over half the participants hailed from the congregation. Fossil Free RI, a new organization that is promoting divestment from fossil fuels, co-sponsored the event and helped with publicity. Essjay Foulkrod of Peace Dale, a member of UUCSC, saw the protest as a natural outgrowth of her faith:
It shows that we take seriously the words in our Covenant: "[Love is the spirit of this congregation,] and service is its prayer …" And also our Seventh Principle: "Respect for the interdependent web of all existence of which we are a part."
Others spoke of protecting children:
Tar sands oil is highly toxic and there have been too many pipeline leaks already that have wreaked havoc on communities. This pipeline needs to be stopped for the sake of our children,
said longtime activist Pamela Brightman of East Providence. Jan Creamer of Wakefield expressed similar concerns:
I thought of all the destruction of people's lives, the heartbreak this pipeline would create if it is approved, and standing out in the freezing cold seemed like a small sacrifice considering.
Creamer sings in the choir at UUCSC, and is always seeking ways to change hearts and minds through music; at the vigil, she serenaded passing cars along with a few others from the congregation:
I was singing my guts out, making up my own words [about the pipeline] to "This Land is Your Land;" some rolled down their windows to hear us.
Most of the protesters attended a sign-making gathering at UUCSC just before the vigil, where they ate pizza and created signs bearing messages such as "No KXL" — "Listen to your Mother [Earth]" — "KXL: Pipeline to Hell," and "Stand up for our Kids."
The Keystone XL Pipeline would carry dirty tar sands oil from Canada to the Gulf of Mexico for export, threatening the drinking water for millions of Americans and a third of our nation's agricultural water. As to jobs, a study by Cornell University's Global Labor Institute found that the project would create no more than 2,500-4,650 temporary jobs—and even these jobs may be offset by job losses in farming, ranching, and tourism due to spills along the pipeline route, as well as further job losses due to rising oil prices in the Midwest. That's right, the pipeline will cause oil prices to rise—not fall—in the Midwest. Why? Because the U.S. already imports tar sands oil from Canada through an existing pipeline. This oil is currently land-locked, resulting in lower prices for the region.  But Keystone XL would transport the oil to refineries on the Gulf Coast, where much of it would be sold for export, forcing customers in the Midwest to compete with international buyers.  So much for "energy independence." Worst of all, because the tar sands oil reserves are so vast and because the extraction process is three times as polluting as for conventional oil, leading climatologist James Hansen warns that the pipeline would mean "game over" for our climate. While the State Department's latest report denies this, their conclusion is based on the notion that the tar sands will be fully developed with or without the pipeline, which a new report by Carbon Tracker Institute finds to be false.
Some see the pipeline decision as a watershed moment for the Administration's energy policy:
Approval or disapproval of this pipeline will be a pivotal moment for and symbol of our future direction. We need the powers that be to put their action where their talk is,
said Beth Milham, who chairs the "green team" at Channing Memorial Church in Newport and serves on the board of Rhode Island Interfaith Power and Light.
Peter Nightingale, a URI physics professor and a founding member of Fossil Free RI, made it clear that the opposition isn't going away:
We should keep these vigils going until we win the battle for the Earth!
The State Department's report ushered in a final comment period that ends this Friday, March 7th. To submit comments against the pipeline, click here.
South County residents protest Keystone XL Pipeline

,