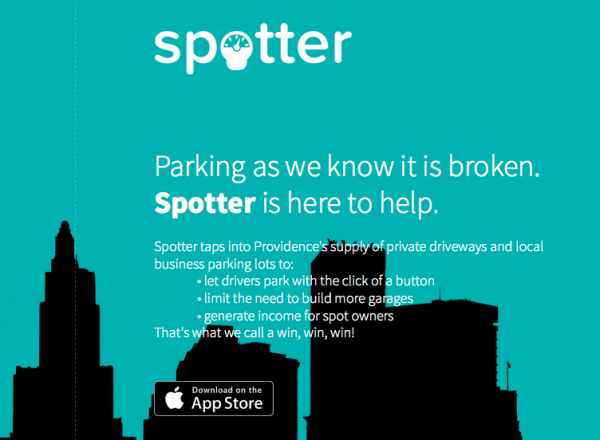 Providence entrepreneurs Albie Brown and Will Newman have a new app they say could disrupt downtown parking the way Airbnb disrupted travel accommodations. And they aren't at all shy about making that comparison. "Spotter is Airbnb for driveways," said Brown.
Spotter links people looking for a parking spot with people with a vacant driveway. Press a button, the app finds and directs you to the closest parking spot. The recent college grads, Brown went to Brown University and Newman completed Rutgers, say they already have "hundreds of downloads" and have 80 available parking spots on the East Side of Providence. Download it here. Using a Spotter spot currently costs $1 an hour, the parking provider pays a percentage to the company.
"Two hour parking doesn't make sense for a lot of people," said Brown, about metered parking. "Commercial lots don't make sense for a lot of people because it's just way too expensive. By tapping into the sharing economy, and working with local residents … who have this idle asset, this driveway, they can begin bridging that gap and helping the people who need it."
Newman added, "Anybody who has an empty driveway can sign up, put their spot on there, and start generating revenue."
By opening the parking market to smaller players, their app can help create better urban environments by taking an emphasis away from downtown parking lots. "Creating a more compact, dense city center is always advantageous to the city," Brown said. "We'd love to help turn some of those parking lots into parks."
In the short term, they hope to offer a useful service to commuters and tourists of Providence. "We're able to increase the supply of parking. We're able to limit the need of more parking lots, creating a nicer Providence," Brown said.
They believe their idea is "completely scalable." Newport and Fall River might have ample need, and they are discussing ways to roll it out in other metropolitan areas of the United States and abroad. So far, they say, they've been pleased with the business climate in Providence and Rhode Island.
James Kennedy, RI Future transportation correspondent, and I interviewed Brown and Newman about their new service below:
PVD entrepreneurs say Spotter app is Airbnb for driveways

,