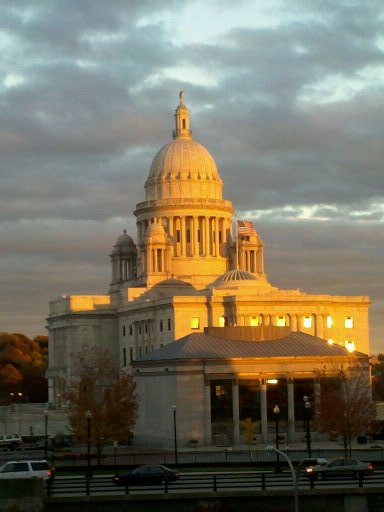 Rhode Island Republicans are itching for a wave of conservatives to challenge to State House incumbents this year, as evidenced by a Providence Journal headline today: "R.I. GOP hopes to ride voter anger over truck tolls."
But the evidence presented in the story below the headline points toward a progressive wave, not a conservative one.
Of the 12 races mentioned in the article, only three concern Republicans challenging incumbent Democrats. Conversely, 8 of the races mentioned concern progressive or liberal Democrats running against conservative Democrats or Republicans.
If there's any kind of wave evidenced by the ProJo post, it looks like a down ballot Bernie Sanders effect to me: no fewer than seven of the Democratic challengers mentioned in the ProJo post identify as progressive Democrats, and all eight challengers from the left mentioned seem likely to win support from the RI Progressive Democrats.
Progressive activists assure me this is only the first wave of lefties who will be challenging the neoliberal status quo at the State House this year:
Evan Shanley won't have to do much to tack to the left of incumbent Joe Trillo, but I expect this labor lawyer will govern more like Aaron Regunberg than Doc Corvese.
Moira Walsh is a young mom who became politically engaged while working to raise wages for tipped workers last year. She also worked for Jobs With Justice.
David Norton has already proved his chops as a grassroots organizer fighting to keep the PawSox in Pawtucket. He's vowed to represent his district, not leadership, if elected.
Camille Vella-Wilkinson is a Warwick City Councilor and a member of the Warwick Progressive Democrats.
Linda Finn was one of the best progressive Democrats in the General Assembly. That's worth virtually zero help from leadership when running for office.
Lisa Tomasso might not consider herself to be a progressive Democrat, but I think she's proven to be pretty progressive on many issues.
Margaux Morrissaux has been the chief activist fighting against payday loans in Rhode Island.
Cathy Cool Rumsey. Like Linda Finn, Cool Rumsey was a one-term progressive legislator who lost to a Republican who is now campaigning to win back her seat.
Jim Seveney won the endorsement of the RI Progressive Democrats in the special election he lost earlier this year.