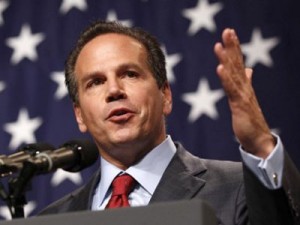 CBS News recently reported that between 1998 and 2006, 43% of members who retired from Congress later took jobs as federal lobbyists – according to Public Citizen, a watchdog organization, those individuals made an average annual salary of around $2 million. What's more, the Center for Responsive Politics issued its own report that found a total of 370 former members now work in some capacity of the "influence-peddling" business.
With so many politicians now seeking to leverage their public service for private gain, is it any wonder that public confidence in Congress has sunk to an all-time low?
Last week, I appeared on MSNBC's Dylan Ratigan Show to discuss H.R. 3491, my legislation that would enact a lifetime ban on Members of Congress ever becoming lobbyists.
Visit msnbc.com for breaking news, world news, and news about the economy
Under my proposal, violators would face up to $50,000 in fines and a year in prison. Although the law currently bars Senators from lobbying for two years after they retire, and Members of the House for a year, a lifetime ban would help ensure that those running for or serving in elected office do it for the right reasons.
With our country still struggling to get back on the right track, it's never been more important for us to restore public confidence that Congress works for the people it represents, not for the special interests. That's why Congress must pass sweeping reforms that put public service ahead of private benefits for elected officials.
This is a simple idea, but getting it done won't be easy. The same special interests who fought tooth and nail against reforms to Wall Street and our health care system think they can make sure that Washington never changes – let's show them they're wrong one more time.