Browse:
Home
/
east bay citizens for peace
east bay citizens for peace
By Steve Ahlquist on March 23, 2017
Supporters of the bill angrily left the meeting room and before the night was over, Representative Arthur Corvese was backing away from the cruel, anti-immigrant bill he had introduced.
Posted in Civil Rights, Criminal Justice, Domestic Violence, Featured, Immigration, International News, Labor, National News, Photos, Poverty, Race & Racism, Rhode Island, State House, Video, Women, Youth | Tagged ACLU, Arthur Corvese, Blake Filippi, cale keable, carlos tobon, donald trump, east bay citizens for peace, Emily Jones, fair, Federation for American Immigration Reform, fuerza laboral, Georgia Hollister-Isman, House Judiciary, ice, Immigration and Customs Enforcement, J Molina Flynn, james diossa, Jason Knight, Jim Kelly, John Wesley, Jonathan Jacobs, jorge elorza, Learning Community Charter School, Mary Pendergast, Michael Araujo, Randall Rose, Raul Figueroa, Rhode Island Coalition Against Domestic Violence, Rhode Island Interfaith Coalition to Reduce Poverty, Rhode Island Jobs with Justice, Rhode Island Progressive Democrats of America, Rhode Island Public Defenders Office, riile, RIPDA, Robert Nardolillo, Rodrigo Pimentel, Roger Williams, Sanctuary cities, Sarah Friedman, Sheila Resseger, Shelby Maldonado, Southern Poverty Law Center, SPLC, Stacia Huyler, Stephenie Gonzales, Steven Brown, Susan Walker, terry gorman, Working Families Party | 3 Responses
By East Bay Citizens for Peace on November 15, 2016
East Bay Citizens for Peace held its monthly vigil for peace and justice outside the Bristol Post Office the Saturday after the election of Donald Trump as president.
Posted in Activism, Civil Rights, Featured | Tagged donald trump, east bay citizens for peace | Leave a response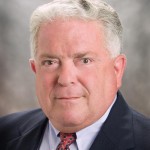 By East Bay Citizens for Peace on April 1, 2016
On Saturday, January 23, 2016 at 7:30 PM, Ambassador Chas W. Freeman, Jr. will present a talk titled "The End of the American Empire: Foreign Policy without Diplomacy" at The Barrington Congregational Church, Fellowship Hall. 461 County Rd, Barrington, RI.
Posted in Activism, Defense, Events, History, International News, National News, News, Politics | Tagged AFSC-SENE, American Friends Service Committee – South East New England, east bay citizens for peace, Jr. | 4 Responses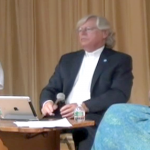 By Steve Ahlquist on August 26, 2014
The one thing that virtually everyone who attended last night's forum, Understanding the Israel/Gaza Crisis, is that the subject is extremely difficult to talk about without extreme emotions hijacking the discourse. Many of us, said moderator Reverend Donald Anderson, executive minister for the RI Council of Churches, have family or friends living in harms way […]
Posted in Civil Rights, Events, Featured, International News, Religion | Tagged afsc, Donald Anderson, east bay citizens for peace, Gaza, israel, Martha Yager, Peace | Leave a response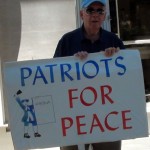 By Steve Ahlquist on September 9, 2013
Today I am going to write about the end of war. I'm not just talking about the end of the two or three wars the United States currently find themselves embroiled in, but the end of all war, everywhere on earth.  This is not an impossible, utopian dream, but a very real possibility. With the […]
Posted in Activism, Events, Featured | Tagged east bay citizens for peace | 2 Responses