Browse:
Home
/
sea level rise
By John McDaid on April 3, 2018
Sen. Sheldon Whitehouse chose the flood-prone Island Park section of Portsmouth as the backdrop to introduce the National Oceans and Coastal Security Fund. With local business, government leaders, and NGOs looking on, Whitehouse announced that the fund received its first $30 million appropriation in last month's omnibus spending bill. Whitehouse began by showing the two dozen […]
Posted in Climate, Featured | Tagged climate change, Island Park, portsmouth, Save The Bay, sea level rise, Sheldon Whitehouse, whitehouse | 1 Response
By Bob Plain on January 26, 2016
Senate President Teresa Paiva Weed is introducing a suite of bills today designed to attract more green jobs to the state, educate more Rhode Islanders to work in green industries, lower consumer costs to switching to solar power and invests heavily in local agriculture, seafood and aquaculture.
Posted in Climate, State House | Tagged climate change, Newport, Rhode Island State House, sea level rise, senate, teresa paiva weed | 1 Response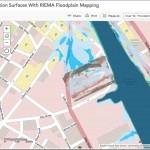 By Mark Binder on March 2, 2015
The first thing that popped into my head when I heard that there were plans to move the Pawsox to downtown Providence near the river was, "Didn't anybody check out that CRMC/URI flood map?" And apparently nobody did. I've seen articles in the paper. I've even tweeted reporters. Nobody's asking the question, "Is this stadium going to […]
Posted in Featured, Providence, Rhode Island, Sports | Tagged Economic Development, flood, I-195, PawSox, pawtucket red sox, sea level rise | 1 Response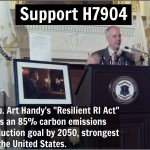 By Bob Plain on April 22, 2014
Cranston Rep. Art Handy assures me his Resilient RI bill, which would focus the state's efforts on addressing climate change, won't require anyone to become a vegan/pedestrian. "It would probably be helpful," he joked at the end of a 15 minute interview. "But I'm not proposing it." Instead, his bill will help organize the actions […]
Posted in Climate, Featured, State House | Tagged art handy, climate change, resilient ri, Rhode Island State House, sea level rise | 3 Responses