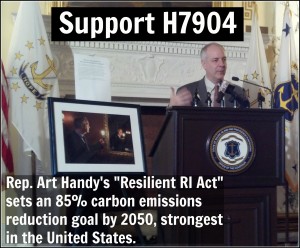 Cranston Rep. Art Handy assures me his Resilient RI bill, which would focus the state's efforts on addressing climate change, won't require anyone to become a vegan/pedestrian.
"It would probably be helpful," he joked at the end of a 15 minute interview. "But I'm not proposing it."
Instead, his bill will help organize the actions the state is already taking. "There's actually a lot happening," Handy said. "It's just not very coordinated across state agencies"
The bill would also create a science advisory group to suggest other solutions and set an "aspirational goal" of 80 percent reduction in carbon emissions by 2050. In the short term, he says, addressing climate change could serve as an economic driver in the Ocean State.
He said technology to address and adapt to sea level rise could be developed here. "Maybe 3M develops a site here to test things and [partners with] the war college and the university," he said. "Like many times you have no idea what the technology is going to be in five or 10 years but we want to be the place where it is being developed."
You can listen to our full conversation below. Abel Collins wrote this post about Handy's bill. And Resilient RI has its own website here.