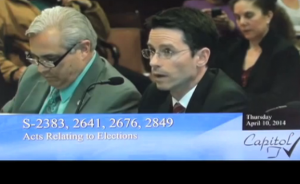 Voter fraud, when it occurs, happens during registration and through absentee ballots, not at the polls, points out John Marion of Common Cause.  Money spent enforcing a worthless voter ID law cannot be spent to prevent real voter fraud, or to expand and improve our electoral process.
Marion went on to explain that provisional ballots, which may be cast by those without proper ID, are a different kind of ballot, and there is no guarantee  that such votes will be counted or any recourse for voters to take to ensure that they are counted.
Are we setting up a two-tiered voter system? One for those who have money and "proper" ID and a second one for the poor? It certainly smells like class warfare to me.