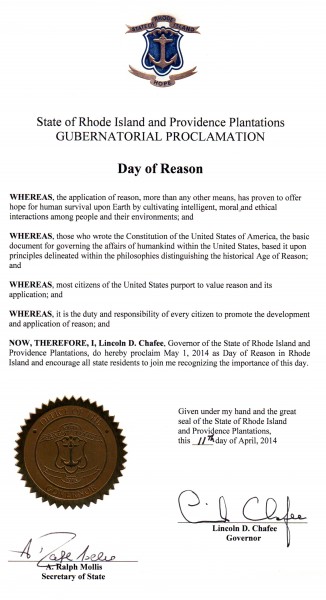 For the second year in a row Governor Lincoln Chafee, at the request of the Humanists of Rhode Island and the Secular Coalition of Rhode Island, has declared May 1st the "Day of Reason."
The United States is a product of the Age of Reason. As humanity faces economic and ecological uncertainty, we should remember that it is through the power of reason that we will overcome these challenges. Reason has cured disease, given us wonderful technologies and philosophical insights, and has allowed peace and prosperity to bloom. Rejecting reason leads to human suffering.
Though this observance is held in parallel with the National Day of Prayer, on the first Thursday in May each year, the goal of this effort is to celebrate reason- a concept all citizens can support- and to raise public awareness about the persistent threat to religious liberty posed by government intrusion into the private sphere of worship.
Governor Chafee has twice declared May 1st to be the Day of Reason, and the groups that have made this request hope that the next governor will be equally generous with support for our efforts. The Day of Reason extolls extolls a value almost everyone holds dear.
Almost everyone. Some people make a living being unreasonable, bombastic idiots: