Browse:
Home
/
Spencer Dickinson
By Bob Plain on September 13, 2018
While the trend nationally has been to oust the incumbents, and the local pundits and politicos seemed braced for an upset, Rhode Islanders stuck by the status quo in the 2018 primary election Wednesday. Democrats roundly rejected Matt Brown's upstart challenge to Governor Gina Raimondo, the more moderate incumbent. And they narrowly stuck by Lt. Governor […]
Posted in Featured, Politics, State House | Tagged aaron regunberg, Allan Fung, Bridget Valverde, Dan McKee, David Cicilline, Gina Raimondo, Jeanine Calkin, Laufton Ascencao, Linna Casar, Marcia Ranglin-Vassell, Matt Brown, Moira Walsh, Rebecca Kislak, Sam Bell, Sheldon Whitehouse, Spencer Dickinson | 5 Responses
By Bob Plain on March 6, 2018
It's deja vu all over again in the race to be the next governor of Rhode Island. Governor Gina Raimondo, the incumbent Democrat, leads her Republican rival, Cranston Mayor Allan Fung, by just two points, 38 percent to 36 percent, according to a new WPRI/Roger Williams University poll that revealed eerily similar results as last […]
Posted in Elections, Featured, Politics, State House | Tagged Allan Fung, Bill Gilbert, bob healey, Cool Moose, Gina Raimondo, Joe Trillo, Moderate Party, Paul Roselli, poll, Roger Williams University, Spencer Dickinson, wpri | 1 Response
By Steve Ahlquist on October 3, 2017
Paul Roselli, who describes himself as a "social justice, environmentalist and Invenergy power plant opposition leader" has declared himself as a candidate for Governor of the State of Rhode Island.
Posted in Activism, Burrillville, Climate, Elections, Energy, Featured, Infrastructure, National News, News, People, Politics, Rhode Island, State House, Water | Tagged Blackstone River Watershed Council, Burrillville Land Trust, Friends of the Blackstone, Gina Raimondo, Lincoln Chafee, National Governors Association, Paul Roselli, Rhode island Association of Conservation Commissions, Spencer Dickinson | 1 Response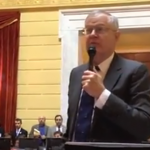 By Bob Plain on October 2, 2017
Former state legislator Spencer Dickinson is running for governor, he told RI Future. The Wakefield Democrat who filed papers last week said he plans a grassroots campaign against incumbent Governor Gina Raimondo, of Providence. "I'm running for governor because I think the governor we have has the wrong focus and has gone the wrong way," […]
Posted in Featured, Rhode Island, State House | Tagged burrillville, burrillville power plant, Gina Raimondo, Governor, Paul Roselli, Spencer Dickinson | 14 Responses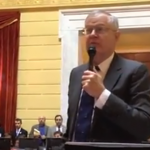 By Mark Gray on August 18, 2014
Dear Representative Dickinson, Hey, remember that time when you called me up regarding the YDRI PAC endorsement, and we ended up having a real nice chat at that coffee place in West Warwick? "The Daily Grind" it was called, over on Cowesset Ave. I was very late (apologies) but you were gracious and we talked […]
Posted in Featured | Tagged campaign 2014, Spencer Dickinson, YDRI | 4 Responses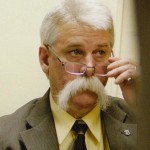 By Bob Plain on March 25, 2014
Coventry Rep. Scott Guthrie said he is supporting Rep. Nick Mattiello for speaker because "a couple people pissed me off." He said he initially contemplated caucusing with the group supporting Rep. Mike Marcello, but at the outset that group didn't even know who it would put forward as the candidate for speaker. "There was no […]
Posted in State House | Tagged house, leadership, marcello, Nicholas Mattiello, Nicholas Mattiello, Rhode Island, Rhode Island State House, RI, scott guthrie, Spencer Dickinson | 1 Response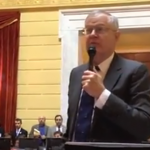 By Bob Plain on January 15, 2014
House Speaker Gordon Fox said he will consider reassigning renegade Rep. Spencer Dickinson to another committee after the South Kingstown Democrat publicly resigned from the House Small Business Committee, saying he was put there as political punishment. But perhaps more interesting is that it was Rep. Jim McCloughlin, a Central Falls/Cumberland conservative Democrat, who requested […]
Posted in Featured, State House | Tagged Gordon Fox, house, Rhode Island State House, riga14, Spencer Dickinson | Leave a response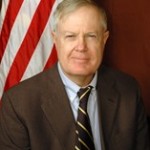 By Bob Plain on January 9, 2014
Though House Speaker Gordon Fox came out conciliatory for the unfriendliness of last session, renegade South Kingstown Rep. Spencer Dickinson started 2014 by promptly resigning from his post on the House Small Business Committee and distributing a scathing letter addressed to the speaker. "I made my final decision to resign from the small business committee […]
Posted in Featured, State House | Tagged Gordon Fox, house small business committee, Politics, Rhode Island, Rhode Island State House, Spencer Dickinson | 3 Responses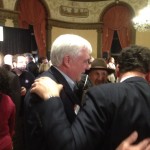 By Bob Plain on November 13, 2012
There's an interesting – and small – mix of conservatives, moderates and populists who seemingly aren't supporting Gordon Fox's effort to be re-elected speaker of the House. His detractors from the left – Reps Scott Guthrie of Coventry and Spencer Dickinson of South Kingstown – have a disdain for pension cuts in common. Guthrie may […]
Posted in Featured | Tagged doc corvese, Gordon Fox, projo, scott guthrie, Scott MacKay, Spencer Dickinson, Ted Nesi | 3 Responses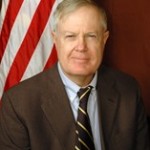 By Bob Plain on November 2, 2012
Soon after learning from Ted Nesi that South Kingstown Rep. Spencer Dickinson invested another $3,820 in a somewhat brazen attempt of defeating his political enemy House Speaker Gordon Fox, we learn that Fox's campaign has filed yet another complaint with the Board of Elections "against opponent Mark Binder after learning that Rep. Spencer Dickinson donated […]
Posted in Elections, Featured, State House | Tagged Gordon Fox, mark binder, Rhode Island State House, Spencer Dickinson | 2 Responses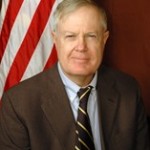 By Samuel G. Howard on September 10, 2012
Unless you live in the area, you're probably not paying much attention to the primary race between incumbent Representative Spencer Dickinson and South Kingstown Councilwoman Kathleen Fogarty in District 35. I wasn't, until I was randomly perusing Anchor Rising, and saw this series on Mr. Dickinson's five-page mailer to constituents outlining the issues he sees […]
Posted in Elections, Featured, Opinion, State House | Tagged Gordon Fox, Kathleen Fogarty, Redistricting, south kingstown, Spencer Dickinson | 18 Responses