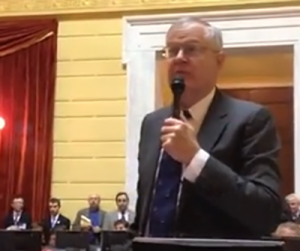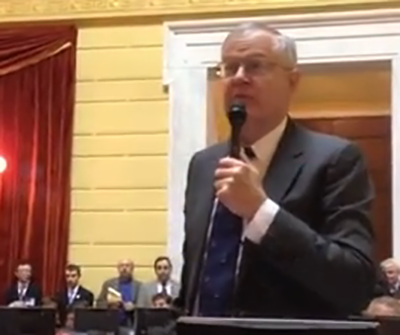 House Speaker Gordon Fox said he will consider reassigning renegade Rep. Spencer Dickinson to another committee after the South Kingstown Democrat publicly resigned from the House Small Business Committee, saying he was put there as political punishment.
But perhaps more interesting is that it was Rep. Jim McCloughlin, a Central Falls/Cumberland conservative Democrat, who requested Fox give Dickinson a second chance, and a fresh start. Watch the video (including a tidbit on when the speaker hopes to close the session):
Notice that the idea of Dickinson being reappointed, or publicly asking the Speaker of the House to do so, is laughable to many of the legislators. But Fox, to me, seemed to genuinely enjoy the openness.
The issue came up on the House floor because Dickinson castigated legislative spokesman Larry Berman for using the Providence Journal to argue with his reason for resigning. Dickinson called the House Small Business Committee the "Committee that Never Meets" and Berman pointed out that Dickinson had missed two of the committee's six meetings last session.
Here's video of Dickinson's floor speech and Committee Chairwoman Patricia Serpa's response: