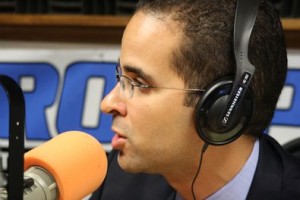 UPDATE: Two Democratic candidates for governor in Rhode Island said they won't go on WPRO talk radio until John DePetro is off the air.
Providence Mayor and gubernatorial candidate Angel Taveras tweeted that he will not appear on WPRO until John DePetro is no longer on the air. And For Our Daughters tweeted that Gina Raimondo would not either.
Taveras and Raimondo are joined by at least 11 state legislators, as well as several other state office holders and candidates including Lt. Gov. Elizabeth Roberts. Earlier today, Governor Lincoln Chafee said he signed the petition to ask Alex and Ani to stop advertising with WPRO until DePetro is removed from the airwaves.
"I stand with you," Taveras tweeted to @ForRIDaughters, the twitter handle for the labor-backed campaign to get the hateful and often mean right-wing shock jock off the air. "I will not be on @wpro until @JohnDePetroshow is off the station for good."
The growing list of politicians refusing to go on the station that bills itself as "the voice of Rhode Island" will put additional pressure on WPRO and Cumulus management to fire DePetro.
For Our Daughters, a labor led-effort, is asking Rhode Islanders and specifically Alex and Ani to stop supporting WPRO as long as DePetro is employed there because he called female union activists whores on the radio.
WPRO and other DePetro employers have been plagued by accusations of sexism from the notoriously nasty radio personality. Last year, WPRO and its corporate parent company Cumulus were sued because DePetro allegedly sexually harassed a co-worker.