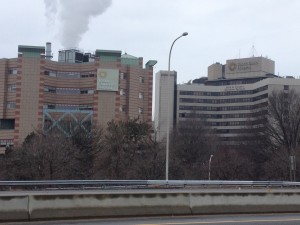 With a deal inked with Johnson & Wales and another seemingly imminent with Brown University, Providence Mayor Angel Taveras turns his attention toward the hospitals this afternoon when he will meet with the CEO's of the three medical institutions this afternoon.
"There's been a lot of focus on Brown and the colleges and universities," said Taveras' press secretary David Ortiz, "but it's really important that Lifespan and the two other health care institutions also contribute more for the services they receive."
Taveras said negotiations for a new in lieu of tax payments from the local hospitals have been "not as productive as they have been with Johnson & Wales. But pending tomorrow's conversation … that might be a very productive conversation."
Don't count on it.
"We have a very respectful difference of opinions," said Mark Montella, Lifespan's senior vice president of external affairs, when asked about the mayor's request for more financial help from the hospitals. Lifespan runs Rhode Island Hospital, Hasbro Children's Hospital, Butler and Miriam Hospital.
He said Lifespan already contributes to the city in terms of the many services they provide, such as the uncompensated emergency care the hospitals provide and the non-emergency medical clinics it sponsors. Of course, hospitals are required by federal law to provide emergency care to anyone who needs it, regardless of ability to pay, and the clinics are a part of the hospitals' charitable mission that help bring in millions in donations and cement its nonprofit status.
The city is looking for $7.1 million from the property-tax exempt nonprofits in the city to fill a hole in his budget. Ortiz said Taveras has started negotiations with these nonprofits by asking for 25 percent of what they would owe in property taxes if they weren't exempt. That number, Ortiz said, is based on a bill that was defeated in the General Assembly last year. In the case of Lifespan, that would mean a payment of approximately $8 million.
Montella said such an amount would have "a sizable economic impact on the organization."
Probably it would. But Lifespan and the other hospitals can certainly afford to give the city something more than they are. After all, Lifespan's CEO made $2.9 million in 2009 alone. One would think the community the hospitals exists in is at least as valuable as any one employee.