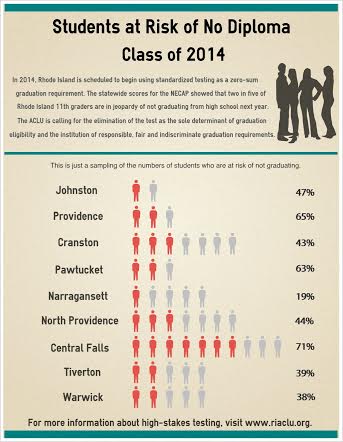 The Rhode Island Teachers Advisory Council has recommended to the Board of Education that it halt its high stakes test graduation requirement policy.
"Assessments, such as NECAP, should not be used as a graduation requirement because such assessments have not been proven valid and reliable for high stakes purposes such as promotion and graduation decisions," the Council said in a new report. "Research has also shown that these tests may narrow curriculum, and limit future educational opportunities, particularly for poor and minority students as well as English Language Learners and students with disabilities."
The report says the NECAP test should not be used as a graduation requirement, and that its replacement – the PARCC – not be used either.
Standardized tests are designed to inform decision-making at the district level. For example, the NECAP scores from a fourth grade class in Pawtucket show that 80% of the students are either partially proficient or substantially below proficient in mathematics. The administration should be able to use the results as a "red flag" to show the need for a change in mathematic instruction for the next school year; i.e. an additional mathematics specialist/coach for the teaching team, smaller mathematic class sizes, longer mathematic classes, a change in curriculum or additional mathematic classes. When the needs are addressed at the district level our students will have access to the proper interventions leading to academic success later on.
The group was created by the legislature last year to improve communications between public school teachers and the state Board of Education.
The NECAPS and high stakes testing have been a scorching political hot potato in Rhode Island for more than a year. Teachers have long been opposed and last year Tom Sgouros wrote a blistering critique of the NECAP tests ability to measure individual performance. The Providence Student Union gave voice to student concerns and their Take the Test action showed a wide swath of politically-engaged adults how difficult the test can be. The legislature is considering weighing in on high stakes testing this session.
Through it all the Board of Education has declined to address the issue, even being chided by a judge for deliberating a request by the ACLU to discuss the matter in public.
The Board meets tonight and is not expected to have a formal debate on NECAPs in particular or high stakes tests in general.