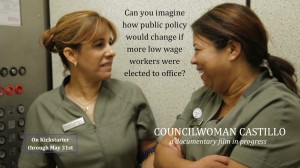 This is the beginning of an ongoing blog about making Councilwoman Castillo – The Film. Why make this film in the first place? It's not just that Carmen Castillo is an inspiration to me. Of course she is. She is the salt of the earth. Committed beyond 100% to her community and her family. She can't be bought off. It's not unheard of to find a politician like that, but pretty rare.
So, you are thinking, this filmmaker is biased. Yes, it is a film with a point of view. But am I right? Is this the story we are telling? The film is about the unknown. We are following Castillo's first term in office. Your guess is as good as mine as to how this story ends. Like the film on Facebook!
There are huge challenges for anyone elected to office, and I believe the challenges are greater for someone whose job requires they punch in and out for a regular shift each and every working day. It is hard to juggle meetings with constituents while cleaning 16 hotel rooms. This story will give us a behind the scenes perspective of what it takes to succeed. What does our democracy really look like on the inside? Why aren't there more low-wage workers in public office? Watch the trailer on Kickstarter!
Social change is never about one person. The film will follow the collective efforts to bring change that take place in Carmen's community during her first term in office. What will the issues be? What are the forces that will come together to make an impact? Does it help community activists to focus on politics, or is it a waste of time?
This is also a film about cleaning hotel rooms. We never hear from those who do the hardest work, but in this film we will! And when there are hotel workers in Providence fighting for better working conditions, we'll follow that too.
Documentary serves many purposes. One is to save a record of current struggles for generations to come. If we don't document what we believe is important, then our stories will get left out of the history books of the future. I think this story should be included.
I hope this film will start a national conversation. We all complain that we get more of the same out of our politicians, and most of us are not happy about it. How would public policy change if more low-wage workers were elected to office?
Kickstart the film! I'll be blogging about production in the months ahead.