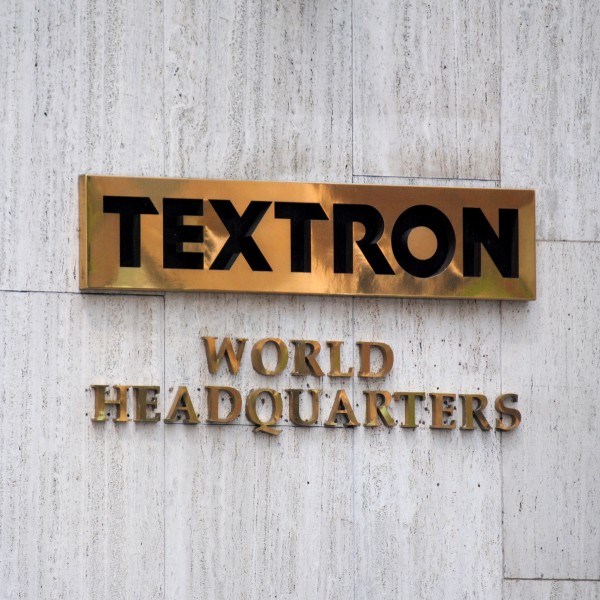 Textron CEO Scott Donnelly wrote an op/ed in today's Providence Journal taking issue with the tactics of activists who are targeting Textron for making cluster bombs.
"It's clear that we live in dangerous times," Donnelly's op/ed begins, citing concerns against "enemies such as ISIS, the Taliban, Al Qaeda and others."
Donnelly, the $12.2 million-a-year president and CEO of Textron, continues:
"Many American companies, including Textron, provide defense products that are often the only barrier between a peaceful population and an invading force. Recently, one Textron-manufactured system has inspired anti-military activists to protest at the company's headquarters in Providence — chaining themselves to our front doors and carrying banners that accuse us of "killing and maiming civilians." Such tactics get news coverage — even in the absence of facts. While we respect the protesters' rights to free speech, we also feel the need to set the record straight.
Donnelly says anti-cluster bomb peace activists in Rhode Island who are holding weekly protests in front of Textron are wrong to confuse the modern Sensor Fuzed Weapon-style cluster bomb Textron manufactures with the older, less computerized, models.
"They claim the SFW indiscriminately scatters small bombs into a battle area, leaving unexploded bombs on the ground to later detonate like land mines," he writes. "This is incorrect."
Peace activist Pia Ward brought an exploded landmine from Beirut in the 1980s to a recent protest in front of Textron to illustrate the indiscriminate damage such weapons can cause. She explains the prop in this video.
This is a common Textron response to information about civilian damage caused by their cluster bombs. Textron spokesman David Sylvestre told me roughly the same thing the first time I asked him about alleged civilian casualties in Yemen caused by cluster bombs. On Feb. 24, I wrote:
Sylvestre made a point to differentiate the CBU-105 Sensor Fuzed Weapons from what he called "Vietnam-era cluster bombs." The modern version are "intelligent" and only target tanks, he said. "They are not intended to target human beings at all," he said. "They are made to target armored-vehicles."
Donnelly did not address in his op/ed recent reports from Human Rights Watch and Amnesty International that documented dozens of civilian casualties in Yemen caused by cluster bombs.
Textron is the last North American manufacturer of cluster bombs, which have been banned by 119 nations and the United Nations but not by the United States. The US sells Textron-made cluster bombs to Saudi Arabia. Saudi Arabia has led a protracted military campaign in Yemen over the past year. Evidence of modern-made Textron cluster bombs has been found in civilian areas of Yemen. Humanitarian groups say Textron's cluster bombs violate US trade law by malfunctioning more than 1 percent of the time and by being used too close to civilians.
Donnelly's op/ed, featured prominently with a photo at the top of the op/ed section jump page, does not address these allegations which have recently been covered by media organizations like the New York Times, the Los Angeles Times and the BBC but not by the Providence Journal.
Prior to the CEO writing an op/ed, the Journal's only coverage of Textron's controversial cluster bombs came when three activists were arrested for chaining themselves to Textron's front doors. In the print edition the same day, it covered Textron's first quarter profits but did not mention that Textron makes cluster bombs. "The company also makes unmanned aircraft systems, weapons and sensors," was the only mention to defense sector profits in the piece that carried the bi-line Journal Staff Reports.
Donnelly did not offer his op/ed to RI Future despite RI Future formally requesting an interview with him on Friday.
While RI Future has referred to Textron protesters as "peace activists" Donnelly referred to the same protesters as "anti-military activists."
Donnelly's op/ed comes on the heels of a report in Foreign Policy magazine's website alleging the US is slated to halt cluster bomb sales to Saudi Arabia. If true, it's unclear how that would affect Textron's cluster bomb business. It sells cluster bombs to some other foreign countries, such as the United Arab Emerites. It has been several years since the US military has bought cluster bombs for its own use.
Textron CEO responds to cluster bomb protests via ProJo op/ed

,