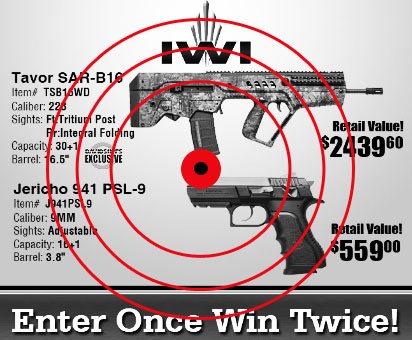 The firearms industry and the consumers who rally against the notion of gun-safety measures do so using a public face of constitutional nobility. The rhetoric is one of rights and revolution as well as self defense for gun owners and their families. Yet, recently I was inadvertently given a glimpse into the world of the irresponsible marketing of guns and, in my experience, it is anything but noble.
Approximately six weeks ago, I was using the internet for its intended purpose: arguing with strangers about social policy issues while simultaneously binge-watching the latest Netflix series and shopping for the best online deals for boxer-briefs. During my bandwidth frenzy the social media debate in which I was engaged turned to the issue of gun laws. It must have been in the recent aftermath of one or another mass shooting. With the frequency of such occurrences, I cannot recall which one.
I made a comment concerning the relative ease of purchasing a firearm and was met with a strong opposing statement about how difficult it is to buy a gun. I believe I had said that peanut butter is too dangerous to bring on to school property, but certain lawmakers want to allow concealed firearms. I followed that up with something comparing the simplicity of buying a gun to that of buying peanut butter. Admittedly, this was not my best case argument to date. But, I was testing an angle. I decided to try an experiment.
Opening yet another browser window on my laptop, now hot to the touch due to the number of running applications, I typed into Google, "buy a gun online." I clicked the first response that popped up. Six and a half minutes later, I had located a 9mm semi-automatic handgun, completed the background questionnaire, and been approved. I requested a hold for delivery to a nearby gun shop for pick up within six days. I also checked to see how long it would take to buy peanut butter online. For the record, ordering peanut butter for in-store pickup was quicker and easier by a good two or three minutes.
Also, for the record, I had no intention of actually purchasing a firearm. Nor do I plan on owning a gun. I rely heavily on statistics for most decisions and the numbers point to a much higher probability of something irreparably traumatic occurring to me or someone for whom I care than of requiring such a device for protection. I feel no need to repeat the statistics that have been accurately expressed ad nauseum by other sources. Suffice it to say, they all strongly suggest that more guns result in more shootings.
It was after I went through the online registration with the site that acted as the broker for my gun purchase that never was, that I started to receive the almost daily promotional e-mails from Gallery of Guns, a site that prices and deals in firearms. I had gone through something that called itself  the Gun Genie. The primary address for the operation is in Prescott, Arizona. Yet, I also noticed a secondary address in Greensboro, North Carolina. I have no knowledge of Arizona. I did, however, live in Greensboro, North Carolina for six years. I went to college there. And, I cannot say that I am at all surprised that such an operation would exist in Greensboro.
But I digress. Below are some of the highlights from the e-mails that I have been  receiving.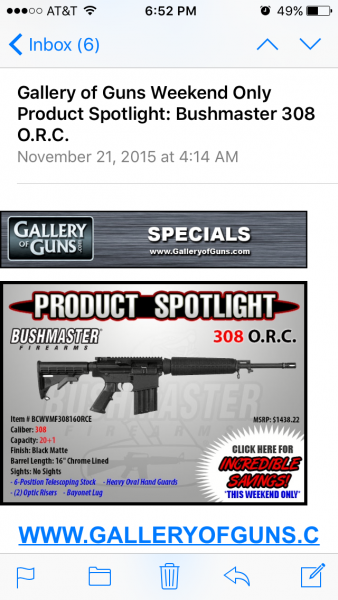 Then there was a bit of a shock when I was offered aan opportunity to enter for a chance to win not one, but two guns. Mind you, these are not just any guns. The Jericho 9mm is a nearly indestructible, polymer sidearm; and the Tavor is a unique, bullpup design, with a similar barrel-length and muzzle velocity to an AR-15 assault rifle. However, the configuration allows it to be more compact and maneuverable in close-combat situations. You know, like close-combat deer hunting and close-combat target shooting. Both are Israeli-design and versions are used by the Israeli military. I will be sure to let you all know more about their design characteristics if I win the "Great Gun Giveaway."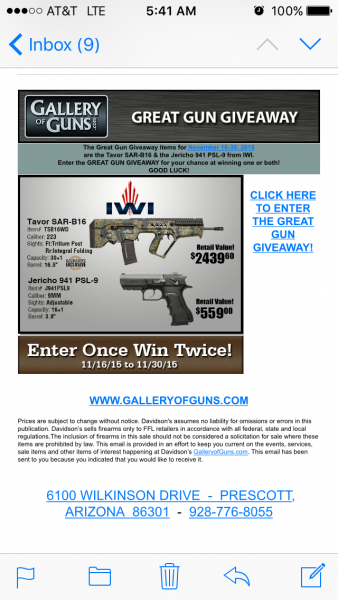 The last promotional e-mail is the real class-act. One might think that the day following the November 27 Colorado Springs Planned Parenthood siege, in which a gunman killed three and wounded four over the course of a six hour standoff, it would be in good taste to refrain from sending advertisements for military-style firearms. However, one would be wrong to think so. Advertised as a special for this weekend only, the ever popular AR-15 type weapon, touted here as the best gun for WSHF/WROL (without forward assist). If you do not know (I had to look it up) that stands for "when shit hits the fan," and "without rule of law." So, I suppose this is the one you would want to buy if you found yourself trapped by police after invading a women's health facility and opening fire on unarmed, innocent civilians.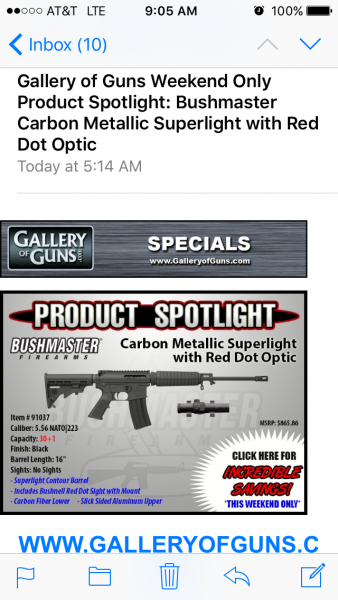 I cannot pinpoint exactly what to take away from my own story. I suppose the issue worthy of discussion is this: If guns are tools of either survival or of sport, why are they being marketed so hard. As soon as I provided one single point of contact, I have been bombarded with a barrage of marketing that has showed me a glimpse of the culture of the firearms market. These are instruments designed to maximize the efficiency with which a human being can cause life threatening injury or death to another living thing. When there are cries of guns getting into the hands of the wrong people and discussions of responsible gun owners, limiting access to convicted felons, or (the most recent scapegoat) the mentally ill, it holds even less weight than before I became aware of all the savings, deals, promotions, and shameless advertising tactics for tactical weapons.
This experience has further validated my suspicions of an industry and a culture that speaks out of both sides of its mouth when it promotes rights and responsibilities and then acts in such a sensational and classless manner, offering deals on AR-15 rifles the day after a national gun-related tragedy. And, as for the "Great Gun Giveaway," yes, they have indeed given it away. But not just the gun. They gave away the whole scam.
The great gun giveaway: Or, how easy is it to get a gun online

,