In February, Bill Nye the Science Guy, from the PBS science show, debated Ken Ham, a fundamentalist preacher who runs the creationist museum in Kentucky on the topic of Creationism versus Evolution. Bill Nye saw this as an opportunity to defend science against the sillier ideas of biblical creationists who believe the universe is only 6000 years old. Ken Ham saw this as an opportunity to spread his religious beliefs and make bushels of money.
Before the debate, many wondered why Nye decided to participate. Ken Ham's creationist views are not real scientific theories. His ideas are steeped in mythology so weak that few educated persons in Ancient Greece would have taken them seriously. Ham's views are anti-scientific nonsense, and for a real scientist to treat them with any degree of seriousness at all seemed like a gigantic waste of time.Worse, it was argued that entering into a debate with Ham was a losing proposition from the get go, because being taken seriously by a scientist gives the appearance that Ham's religious views are in some way equal to science.
Standing on that stage, Ken Ham finally felt that the world was taking his backwards ideas seriously. No scientific point Bill Nye made during the debate mattered because in the minds of Ken Ham and his followers, the fundamentalist preacher was treated as a serious threat to the scientific method and common sense.
Ham won everything he wanted to win before the debate even started. As Michael Schulson writes on The Daily Beast:
You don't need to be Sun Tzu to realize that, when it comes to guys like Ken Ham, you can't really win. If you refuse to debate them, they claim to be censored. If you agree to debate them, you give them a public platform on which to argue that, yep, they're being censored. Better not to engage at all, at least directly. Nye may be the last to understand a point that seems to be circulating more widely these days: creationism is a political issue, not a scientific one, and throwing around scientific facts won't dissuade those who don't accept scientific authority in the first place.
This came into my mind Saturday morning as I read "'Noble Lies' are damaging environmentalism" an op-ed by Tom Harris in the Providence Journal. Harris is executive director of the International Climate Science Coalition, which denies the reality and devastating future impact of climate change. Harris's group is political, not scientific in nature. As Cameron Spitzer points out, in a comment on the piece:
The International Climate Science Coalition is "the Heartland Institute wearing a party mask. Heartland is one of the "think tank" public relations (PR) and lobbying firms working to undermine public confidence in science. The project began when epidemiologists linked smoking to cancer, and the tobacco companies hired PR firms to smear them. Then it was lead in paint and gasoline, toxicologists. Then clearcut logging, population biologists. Nowadays the smear is aimed at climate scientists. Various PR firms have been involved over the years and some of the biggest have been there for the whole run.
Harris accomplishes everything he sets out to do just by having his anti-science and frankly idiotic views published in the newspaper. The point of Harris's piece is not to debate the science but to debate science itself. Just being presented as a serious alternative is a win: the objective is to obfuscate, not educate. Harris does not give two shits about truth, he cares about undermining our confidence in the best tool we have to understand the world, science, so that he and his group can prevent any kind of action on climate change until it is too late.
I've written about this before, in response to a similarly idiotic piece in in the ProJo by Steve Goreham, who also heads a science denying institute funded by Heartland.  ProJo editor Ed Achorn seems to revel in printing such drivel in his paper, not because they represent good science, critical thinking or facts, but because they reflect his biased, strongly held religious views about Libertarian economics and politics.
How do you answer this kind of junk polemics? What answer can you give to anti-science, anti-human cranks like Achorn and Harris?
The unfortunate answer is: none. Religion, whether it's centered on God or the Invisible Hand, can't be countered with rational, scientific and logical thought. Whereas a reasonable, intelligent and honest person sees science as a tool for determining the truth, science deniers like Harris and Achorn see science as an inconvenience when it stands in their way and as a weapon when it favors their views.
Those who routinely hate and deride science that goes against their worldview, are con artists. They are not out to discover and share the truth, they merely seek to deceive as a first step in taking away something precious.
That debating cranks merely empowers them was demonstrated in April, when the Rhode Island Center for Freedom and Prosperity, a libertarian economic think tank reputedly funded by the Koch Brothers held "The Great Ocean State Debate" at the University of Rhode Island.
Tom Sgouros and Sam Bell debated Stephen Moore from the Heritage Foundation, yet another Libertarian think tank concerned with spreading the Good News about Ayn Rand. Debating with Moore led Sgouros to the following revelation:
…there is a moral dimension to lobbying. Lives are ruined and people die because of bad decisions made at the state house. Advocates have a responsibility to test their hypotheses in an intellectually honest fashion… A responsible advocate will examine as many possibilities as seem reasonable before insisting on a solution. But I didn't see any of that curiosity on display Saturday.
This is because Moore was not representing an honest, scientific opinion. He was representing a religious, Libertarian point of view that is as immune to facts as Creationism, Astrology or Bigfootery. Justin Katz, writing on his blog, was annoyed by Sgouros's spot-on analysis, writing:
It's nearly breathtaking, Tom Sgouros's audacity in manipulating facts in order to enable his condescending manner of promoting a downright bizarre version of Rhode Island's political and policy landscape.  Ever the gracious adversary, he takes to RIFuture, today, to insult both his debate opponent on Saturday, Stephen Moore, as well as the organization that put the debate together and gave him a platform for his own point of view.
Katz has framed the debate so as to cast the Center for Freedom and Prosperity as the mainstream and Sgouros as the outsider. This makes sense. Institutions represent power and society, and the RI Center for Freedom and Prosperity bills itself as the state's "leading free-enterprise public policy think tank." They held their debate at the University of Rhode Island in an attempt to add an academic gloss to their show. The Center is all flash and theater. As Phil Eil pointed out in the Providence Phoenix:
If you're picturing some kind of imposing home for the Rhode Island Center for Freedom and Prosperity — a glass cube in Middletown, say, or a concrete bunker in Smithfield with Hulk Hogan's "I Am a Real American" theme song blasting from outdoor speakers — think again. There is actually is no proper headquarters for the RICFP. The CEO, research director, and outreach coordinator do most of their work from home.
The Center and their guests, Stephen Moore of the Heritage Foundation and Don Watkins of the Ayn Rand institute, represent the fringiest of fringe economics and the economics they routinely espouse is not even classifiable as science in any meaningful way. Though Moore, the Heritage Foundation and the RI Center for Freedom and Prosperity avoid the term, they are all serving up some form of Austrian libertarianism or outright objectivism. As John Case points out, "although [the Austrian School] calls itself economics, [it] is better termed a Utopian philosophy…. Instead of paying any attention to data, it accepts as given from God (or nature) the transcendental 'organizing' power of the market price mechanism."
You can't scientifically debate ideas that are by their nature not scientific. It is a waste of time, and worse, by pretending these ideas are in some way worthy of serious consideration, you give these crank ideas an undeserved veneer of respectability and importance. It is this undeserved sense of importance that Katz evoked in his criticism of Sgouros. Never mind that Sgouros was better informed than his opponent, Sgouros insulted the Center, and if the Center isn't an institution worthy of respect, why did Sgouros bother showing up? (Sgouros says he got paid to be there.)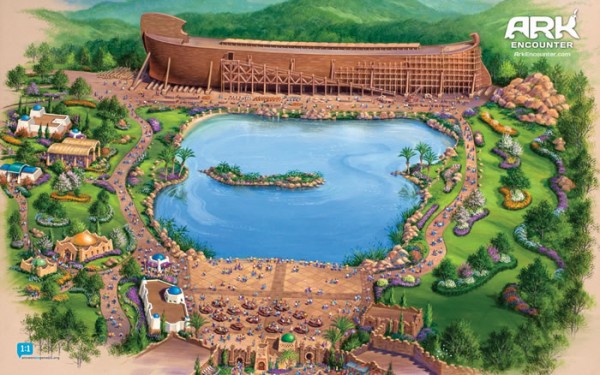 I want to end by getting back to the Bill Nye and Ken Ham debate. Long before the debate, after Ken Ham built his creationist museum in Kentucky, Ham announced that he was going to build a life sized replica of Noah's Ark. Unfortunately for Ken Ham, this silly project stalled indefinitely due to the preacher's inability to gather enough funds. It stalled, that is, until the Bill Nye debate. Publicity for the debate generated all the media attention Ken Ham needed to find people willing to fund his project to completion.
Nye said that he was "heartbroken and sickened for the Commonwealth of Kentucky," continuing, "If [Ken Ham] builds that ark, it's my strong opinion [that] it's bad for the commonwealth of Kentucky and bad for scientists based in Kentucky and bad for the US, and, I'm not joking, bad for the world."
Bill Nye may be right, but the damage done will not be the fault of Ken Ham alone. Part of that damage done must be owned by the Science Guy, who thought he could fight nonsense with logic when he should have just ignored the nonsense. This is the price we pay for condescending to debate the ideas of cranks. We give them false legitimacy. We give them undeserved power, time, money and status even as we ultimately give up our own.
We need a better plan. We have to learn, like the computer at the end of Matthew Broderick's War Games, that "The only winning move is not to play."