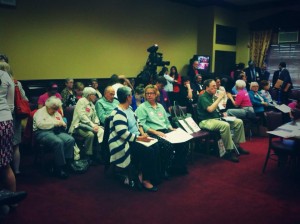 It seems fitting that the Providence Journal editorialized in support of making Plan B, the emergency contraceptive drug, over the counter the very morning after Rhode Island's annual abortion restriction hearing in the State House.  Over sixty supporters came out in waves of pink to support the work of the RI Coalition for Reproductive Justice and Planned Parenthood as the House Judiciary Committee heard five abortion restriction bills.
Interestingly of the five bills heard, only three of the legislative sponsors came out to support their own legislation.  Rep. Fellela who sponsored the sex selection ban and Rep. Palumbo who sponsored the wait period "women's right to know act" were noticeably absent. Over all, little time was spent explaining how any of the bills heard would reduce unintended pregnancy or abortion rates in Rhode Island, both of which are some of the highest in the New England region.
As the legislature enters its final five weeks of what has already been an active session with passage of marriage equality, we hope the General Assembly will remember that Rhode Island already has a range of restrictive regulations and laws on the books, many of which are unconstitutional and unenforceable.  Rhode Island already requires "informed consent" prior to abortion, prohibits public funding for abortion services and is subject to all the federal laws including the late term abortion ban upheld by the US Supreme Court in 2009. There is no need to replicate these policies in state law.
However, Rhode Island persists as an outlier in New England for its high unintended pregnancy and teen pregnancy rates.  Although those rates have been on a decline over the last ten years thanks to advances in long acting reversible contraception methods and greater public awareness of family planning services, none of the five bills proposed here today address unintended pregnancy and will do NOTHING to reduce the abortion rate in Rhode Island.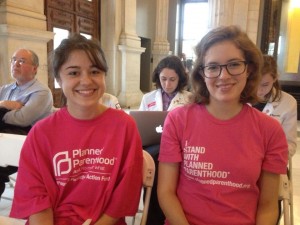 The  General Assembly does however have the opportunity this session to expand the Medicaid family planning benefit to include more low income women, and Rhode Island will receive $9 from the federal government for every $1 we spend on this program through the state's Global Medicaid Waiver. We can and should do better in Rhode Island.  It's time to move beyond the divisive political attacks on reproductive health and work together toward real solutions to real problems in public health.  Rhode Island is not North Dakota.  Rhode Island is not Texas.  Rhode Island is not Arkansas.  Rhode Island can do better.
In case you missed the hearing you may watch it online (the hearing on the abortion bills begins at minute 85).
Organizations & Individuals who testified in Opposition to Abortion Restrictions in RI
Paula Hodges – Planned Parenthood Southern New England
Steve Brown – RI American Civil Liberties Union
Carolyn Mark, RI NOW
Rev. David Ames, Planned Parenthood Clergy Advisory Board
Rick Harris – RI National Association of Social Workers
Kristina Fox, Ocean State Action
Mary Chace, RI League of Women Voters
Steve Alquist, Humanists of RI
Dr. Emily White
RI Medical Society
Sarah Kramer – Brown Medical Student
Marie Deluca – Brown Medical Student
Micala Venta, Brown Medical Student
Caitlin Naureckas – Brown Medical Student
Rachel Orsinger, RI Coalition Against Domestic Violence
Barbara Colt – Rhode Islanders for Abortion Rights
Rev. Elizabeth Barnum
Margret (Penny) Guyer
Rachel Bloom
Lauren Niedel
Jessan Dunn Otis
Gus Uht
The Morning After

,