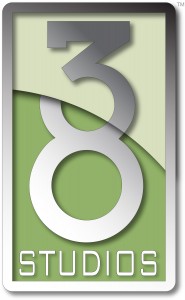 When the cache of documents related to the ongoing 38 Studios lawsuit (click here to view or download) brought by Governor Linc Chafee was released on September 24, a wealth of information was opened up. After years of curiosity, the public was able to see almost totally the chain of events that led to one of the biggest financial boondoggles in Rhode Island history.
After years of spin, lack of comment, and problematic answers, we bring you an analysis of the sworn and true answers of the three public officials to occupy the governor's office since the deal was struck.
DONALD CARCIERI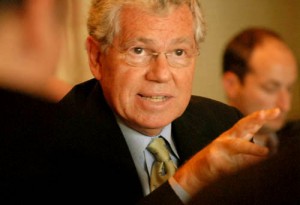 After multiple days and 562 pages of deposition testimony, it is clear that former Governor Don Carcieri, the man responsible for the 38 Studios deal as chairman of the EDC, is nervous. Throughout the transcript, he peppers his answers with "you know" – a sign of anxiety.
When Carcieri took office in 2003, he touted himself as a pro-business reform candidate, campaigning on a promise to bring a 'Big Audit' to the convoluted state government. One of these moves included merging the Economic Policy Council and a smaller EDC into the single agency that approved the 38 Studios funding package. He says of the decision:
[I]t was a board decision. This was not my decision alone. I mean, this was a quasi-independent corporation. We went through lots of pains to restructure the whole corporation, created a whole new board, and as I said, I felt very pleased at the quality of the people we were able to attract, and I wanted to make sure that they could do their job.
Carcieri thought they had a prize in 38 Studios, a company that would spur the growth seen in the Cambridge, Massachusetts high-tech corridor on Route 128 decades earlier. At one point, Robert Stolzman, now a defendant in the lawsuit, wrote to the governor thanking him for involving him in the 38 Studios issue. With predicted earnings of $50 million by 2015, they believed they were going to be responsible for a high-tech renaissance.
They expected that they had a real winner in terms of a game and what they were doing in developing with a lot of industry expertise in this multi-player game was going to be very well received. They, you know, were supported in that, to my knowledge, by entertainment arts [Electronic Arts video game publishing] who understood the industry as well.
But there were warning signs from the outset that Carcieri refused to heed. One board member at the EDC, Karl Wadensten, voiced concern about the total monies being dedicated towards the project. Rosemary Gallogly, a seasoned adviser with years of experience regarding government accounting, raised multiple red flags that the governor blew off as infrastructural issues, part of the 'big government' he had vowed to fight.
-I don't recall reading the whole [Strategy Analytics] report [regarding risks and possibilities]. Often they have executive summaries is what I would read, then I would skim, possibly, through, but what I'm saying to you is this is not my recollection of what was presented to the board meeting. That there was a slide dec. like all — PowerPoint or something that, you know — the sum and substance was, on balance, positive that's my recollection, Tom.
-You're saying your recollection on balance was positive?
-Yeah.
-Of the Strategy Analytics report was positive?
-Yes.
-Now, but you don't know if you actually read the entire report or not, do you?
Two things become abundantly clear from Carcieri's testimony.
First, despite boasting about his business savvy, he remained woefully out of touch with the industry he was trying to get involved in and remained so last year when deposed. Throughout the transcript, he consistently confuses the name of EA Games, the third-largest video game firm on earth, calling them 'Entertainment Arts' instead of Electronic Arts. When discussing the second title 38 Studios was working on at the time of their bankruptcy, a massive multi-player online game akin to the popular WORLDS OF WARCRAFT, he is hazy on the terms used in distribution, calling the industry-standard subscription-based servicing of those titles a "lease."
That is a sign of bad business management. The Oracle of Omaha, Warren Buffett, has been very open with how he made his fortune, explaining that, if he cannot understand a prospective investment and how the company works when he sits down at his kitchen table with the spreadsheets, he passes on the investment. Buffett does not have access to the secret formula for Coca-Cola or understand how Dairy Queen produces all their dessert items, but he does understand how to drink soda and take his grandchildren out for ice cream. The trick with smart investment is understanding exactly why a product or service will have success, not due to innovation as much as appeal. In the case of 38 Studios, Curt Schilling could and probably should have done what most sports players do in retirement when they get involved with video games, release a title based on his name recognition and sports career. It may not have been as exciting as the roll-playing fantasies he hoped to develop with sci-fi author RA Salvatore, but no one has seen John Madden crying on the way to the bank. Carcieri and Schilling were both clueless about everything from basic game programming to distribution models. The former Governor was so out of touch he did not even realize that the board he was chair of had not hired IBM and Wells Fargo as consultants! That he did not know he was not the first to talk with Schilling about the venture is merely the pinnacle of his lack of connection, regardless of whether politicians like William Murphy, Gordon Fox, and others lied to him.
Carcieri also seems to have let his ideology get in the way of basic economic logic regarding recovery from a recession. Even though they portrayed themselves as conservatives, Schilling and Carcieri bear all the markings of classical English liberals in the economic sense, fiercely opposed to unions and praising the virtues of so-called 'free markets' and supply-side economics. They wanted to create a business boom in the tech sector, which is non-union.
Besides the aforementioned lack of industry literacy, Carcieri and other Rhode Island officials fatally misjudged why the Massachusetts Miracle happened in the first place. In that instance, technology firms since the 1960s had been creating a diverse set of products that reaped millions. And while they did see a particular boom in the 1980s and 1990s with computer software, the vast majority of the products created were technologies used in unionized jobs, such as municipal construction or lighting devices, industries with almost-guaranteed supply-and-demand ratios as opposed to video games, which are wildly uncertain in success based on the nature of customer satisfaction.
The reality is still as John Maynard Keynes told us 80 years ago, the way to get out of a recession is by having a government spend huge amounts on public works and infrastructure projects that create long-lasting, good-paying, unionized jobs. As the workers continue to take home good paychecks over the course of years, they in turn spend their earnings on everything from houses to cars to luxury services that they could not afford previously. That was the reason President Eisenhower, as a Republican, was pro-union and opposed the anti-labor ideologies of Joseph McCarthy and Barry Goldwater. He knew then that the middle class prosperity he oversaw was dependent on organized labor serving as a balance with the controlling powers of big capital. The fact Carcieri mistakenly thought that RISD could perform the same services as MIT and Harvard and that their wildly unpopular former President John Maeda would help foster this boom is the tragically ironic icing on the cake.
LINCOLN CHAFEE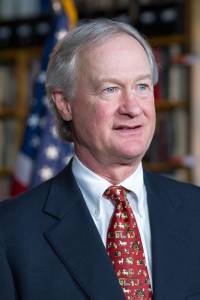 When Lincoln Chafee took the governor's office in January 2011, the state was in a complete crisis. Municipalities were on the verge of bankruptcy. The pension system was in trouble. And when, during his campaign, he had opposed the passage of the 38 Studios deal, he was blocked from speaking at an EDC meeting and "swatted aside" by a state trooper. He left office as a very unpopular man, with then-Treasurer Gina Raimondo having bad-mouthed him both in the press and during election debates.
I was apprehensive, given my very, very vocal opposition to the deal in the campaign, including going uninvited to an EDC board meeting and being barred from entering, that I could be accused of meddling, micromanaging, interfering. There were still board members that were very- had voted in favor of this deal. The executive director and I had sparred in the course of the campaign, now he was my executive director of the EDC. I was very apprehensive about, as I said, micromanaging or meddling in this. I saw my role as to be supportive and write the checks and hope that that first game was successful… We inherited an inferno.
Now comes the release of his deposition. Of all the motley crew of big-shots and political players, he comes across as not just respectable but actually the closest thing to a hero. I do not agree with all of his policy moves while in office, including the public sector pension reform he oversaw, but it is obvious he did not care about his image, he cared about Rhode Island.
-I did get a call from Providence Equity leadership who experience in this area and shared my initial thoughts and opposition and reinforcing that.
-When you say Providence Equity leadership, is there a particular individual you spoke with?
-My classmate, Jonathan Nelson… I had expressed opposition at that point to the loan, and he said I'm in the business, this business, and you're right about your opposition.
From day one, Chafee was educating himself about the video game industry and saw a turkey. One of the many exhibits in his deposition is a packet of news articles and analyses that he had in his campaign office, representing the level of research he was doing during a busy election season about an industry he and everyone else knew nothing about.
-Yes, these documents we came upon after the request to make sure we had given everything that we had, and just in further searching, these are the documents that reflected that further search.
-Where were they found?
-Some in my campaign office, which was not my original campaign office that I had during the campaign, but a subsequent mini closet, almost, where we store a number of items, and others were in the governor's office.
-Okay. The mini campaign office you refer to, where is that located?
-Airport Plaza, Warwick, Rhode Island…
-Did you ask any members of your campaign staff to do any research for you into any issues which may concern this type of potential relationship with a company like 38 Studios?
-I'm sure being a team effort and this being a major item in the news and being, you know, a very, very competitive campaign everybody was involved in finding out as much as they could about all the details of this type of state investment.
In both the deposition and public statements, Curt Schilling and his lawyers have tried to blame Chafee for their failures. They claim the governor's press statements were the kind of bad publicity that drove away potential investors and ultimately caused the company's failure. In the deposition, Schilling's lawyer Michael Sarli repeatedly tries to pigeonhole Chafee and make him seem incompetent, a poor chair of the EDC board that was asleep at the wheel. The question, rephrased and repeated time and again, is contemptuous of the Governor's office, to the point Max Wistow, the lawyer Chafee hired to represent the EDC and launch the current lawsuit, says "The gentleman is the governor. It is being abusive and argumentative."
Regardless of how one feels about Chafee, every Rhode Islander should understand that Wistow is not standing up just for one man, he is defending the integrity of the state itself, which Schilling is trying to drag through the gutter. Chafee had no ability to impact the company's success or failure after taking office. What killed 38 Studios was inherent to Schilling's management style, the nature of the video game industry, and the economic impact of the 2008 crash. They failed to sell enough copies of their first game because it was a mediocre title and people were tightening their belts due to the recession.
GINA RAIMONDO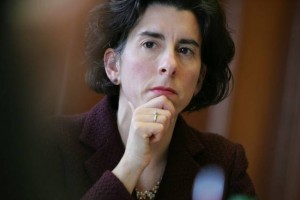 The deposition of Gina Raimondo is a one that occupies a unique time and place, having been taken on September 11, 2014, two days after she had won the Democratic primary, but before she won the gubernatorial race and ceased her duties as treasurer. Having emerged from the private sector as a venture capitalist prior to entering politics in 2011, she had a particular level of insight on the issue when news of the 38 Studios deal first broke.
-Well, as a professional in the field of venture capital, did the idea that the state was looking to enter into some sort of an agreement with 38 Studios pique your professional interest at all?
-Yes.
-Did you do anything in follow-up to having that curiosity?
-I did. I wrote that e-mail to Keith Stokes suggesting that, in my opinion, it was a high-risk venture, and if I could — since I had expertise in investing, if I could be of any help, I was here to help.
Raimondo was in the minority of those who expressed concern about the deal after she talked about the issue with her co-workers, who had a history of financing video game firms and did some research on 38 Studios. Before the company moved to Rhode Island, it was based in an area with a high concentration of gaming developers and the venture capital firms that traditionally finance their efforts.
-Okay. So, at least at the time you had knowledge that there were people that you regarded as experts in the gaming business that had decided not to invest and had looked at 38 Studios specifically, fair?
-Yes. Yes. The nature of the way this happens in general is, you know, Monday morning, you have investment committee meetings. You sit around at a table like this, you say, Sean, what do you think — Sean was my partner, who is a… gaming expert, what do you think of this 38 Studios deal? It's casual chitchat. And so I don't remember doing that, but the nature of it, the conversation would have been, in the vernacular it's called shopped, the deal has been shopped around. I don't remember him saying it, but I'm thinking reading this, he probably said, oh, that's been shopped all over the place, and everyone's passed… I didn't know anything, really, about the deal or anything other than what I read in the paper, but it's just the general concept that he was a famous baseball player in a really hot area of gaming in the venture capital mecca of America, and if he couldn't get venture capital money and had to come to the State of Rhode Island for money, hit the pause button. Like, I didn't know anything just from the outside looking in, if you're a famous guy in the hottest area of gaming in the hot venture capital market in the world, and you can't get funded,… what does the State of Rhode Island know that the whole rest of the world doesn't know? So it was just a general concept of hold your horses.
It is possible that Raimondo will be able to use quotes like this to her advantage in the future. She is on the public record regarding how she said from the outset that this was a bad deal. But as one reads further on in the transcripts, a troubling image emerges. It becomes absolutely clear that this is a cunning and ruthless politician that will sacrifice anyone to get ahead in a political contest. Consider her treatment of Chafee in May of 2012:
-I'm going to direct your attention to the part of this document that follows the header, "A company doesn't run out of money overnight." Do you see that
-Yes.
-And there's a quote attributed to you in this document and it says… "To me the much bigger question is what's been happening over the past 17 months."… "General Treasurer Gina Raimondo said in an interview on the Dan Yorke show on Wednesday… "How has the governor and his staff in his capacity as chair of the EDC board been monitoring this investment? A company does not run out of money overnight."… Would you expect that there would be, on a deal like this, when you talk about monitoring the deal, when you use that word, does that mean that at some point the board of EDC is given information as to how this risky loan is performing?
-I have no idea… I do not know, even as I sit here, how the governance of the EDC, I don't know the ins and outs of how the governance of the EDC works… I don't know what information the board is supposed to see, Governor sees, counsel sees, executive director sees, I have no idea.
Ergo, she has no idea what she is talking about but does not mind dragging Chafee through the mud to score a political point. That sort of realpolitik is sadly part and parcel of a political system that traffics in media hype rather than actual ideological standards, treating the contestants as rock stars as opposed to political thinkers. Consider Raimondo's comments about her own education in law, a point emphasized by her political campaigns.
-Okay. If you recall back to those days at Yale when you were in Evidence class, do you remember past recollection recorded?
-I never took Evidence. Don't you know they don't actually teach law at Yale?
-What do they teach, networking?
-Pretty much, yeah.
How encouraging.
Raimondo's private sector line of work is bitterly referred to as 'vulture capitalism' by those who have run afoul of people in her line of work. There are success stories, such as when Facebook went from a college start-up to a multi-million dollar company. But there are thousands of shattered dreams and broken lives also, far more than the successes. She has already set her Wall Street cronies loose on the public sector employee pension system. The fact she even allowed PawSox owner Larry Lucchino to entertain the idea of a taxpayer-financed stadium this summer despite economic analyses forecasting doom shows us this is a person who would not blink an eye while selling out her voters as long as she can curry favors. Carcieri may have been foolish and Chafee swamped, but Raimondo is someone who knows how to get ahead regardless of the consequences as long as she can benefit.
LESSONS LEARNED?
There are lessons to be learned from this mess. It may turn out in all probability that Superior Court Judge Michael Silverstein finds for the defendants and rules that the State was not conned by Schilling, they merely made a very bad financial decision. With the disclosure about Chafee's friend Mr. Nelson and Raimondo's warnings from the private sector, it seems clear that there was a reasonable level of insight about Schilling and in fact the politicians just let their egos get ahead of them.
But the type of reform really needed goes well beyond political parties and into the realm of revising our basic norms of government. 38 Studios is not an aberration, it is symptomatic of something deeply embedded in the corruption of Rhode Island's political culture. The one who was the voice of reason and sanity ended up as a reviled one-term politician, now walking a Quixotic trail towards the Presidential primaries with little support or media hype. The majority of the culprits in this rip-off are going to probably get off scot-free. And the type of people that create these kinds of economic nightmares now have one of their own in power, biding her time and eyeing advancement to Washington DC.
Karl Marx, the prophet who told us capital is a system of contradictions leading towards deeper and wider economic disparity, famously told us "Hegel remarks somewhere that all great world-historic facts and personages appear, so to speak, twice. He forgot to add: the first time as tragedy, the second time as farce." Unfortunately, the joke is on us.